Horyna is WAC Volleyball Player of the Year
Brock Kappelmann - November 5, 2021 12:03 pm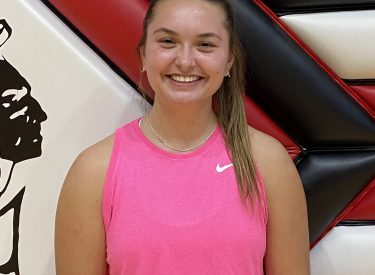 It was never going to be an easy road within the Western Athletic Conference during the 2021 volleyball season.
For the first time in many seasons, there was no clear-cut favorite to end the 10-year reign of the Garden City Lady Buffaloes for the team title.
When the WAC Championship was played in Hays on Oct. 16, those predictions came true as Hays High captured its first conference crown since the 1990s and Liberal finished second, both with 3-1 records in the round-robin tournament. Hays won the tiebreaker by winning the head-to-head with Liberal.
But there was little argument when the league's coaches gathered to determine the all-WAC team that Liberal senior Bree Horyna, a 5-9 left outside hitter, was voted the 2021 Player of the Year.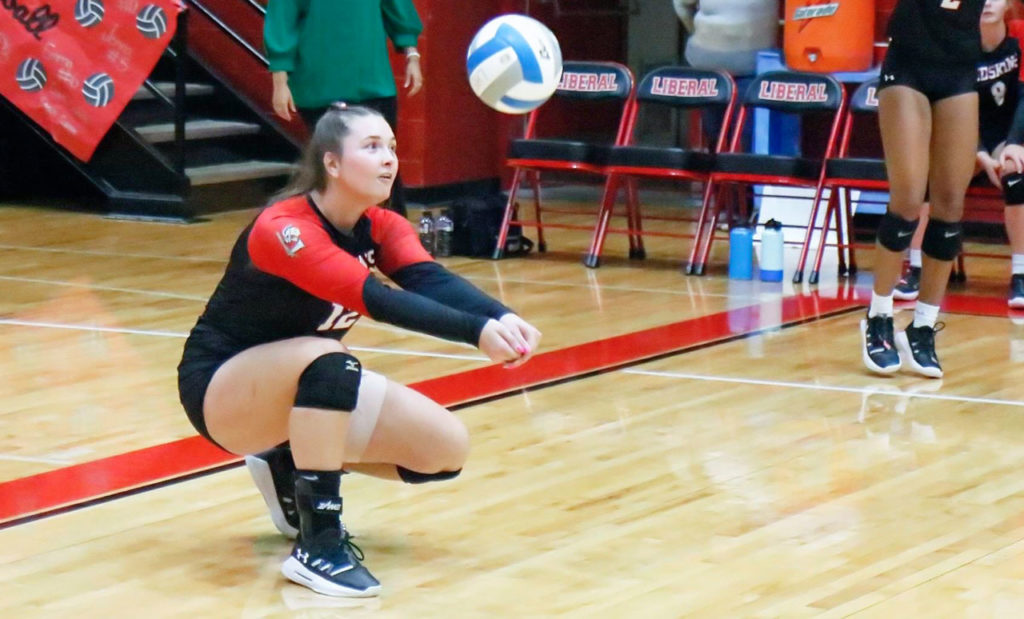 A three-sport standout at Liberal, Horyna had a solid senior year to cap off a prep career that involves basketball as well as track and field.
Her Lady Reds team got off to an inauspicious start to the season, losing their first 10 matches. Then, a switch of offense seemed to be like the light switch for Horyna and her teammates as they rattled off 19 wins to just six losses to finish the season 19-16. They were one match away from qualifying for the Class 6A state tournament, only to lose to once-beaten Wichita Northwest in the Sub-State title match.
"We started out and it was pretty rough," Horyna said. "But then we changed offenses and we kept working and we ended up having a good season."
The Lady Reds, under Coach Katie Garcia, went from a 5-1 offensive set to a 6-2, thus providing more offensive firepower at the net. The move worked brilliantly.
"That allowed us to have three hitters up instead of two," she said. "We became more of a threat on offense."
Horyna said she became a smarter player in her senior year, trying to find openings on the other side to change up locations to hit the ball.
"You work on trying to see the defense when the ball is in the air, and try to locate places to either tip, or to hit the ball hard," Horyna said. "We worked on getting quick sets, too, but it's all about the defense and knowing where they are to go and get points."
When she learned of the POY honor from her Coach just a couple days after state tournament weekend, Horyna said she was surprised.
"I just didn't think I'd get it because there's so many good players at the tournament," Horyna said. "I don't think I ever really consider individual honors in team sports because I'm always focused on what can I do to help the team succeed. It's pretty exciting honestly to get this honor."
Her stats line was impressive in her senior campaign, recording 300 kills, 312 digs and recording 34 service aces. She played all six rotations for Garcia, something new in her repertoire.
"My biggest improvement came on playing the back row," Horyna said. "I just learned how to read the ball better and how to go after digs by diving on the floor. Before, I really didn't know how to dive. Playing all the rotations is challenging, but it was always good to be on the floor."
Drills and fundamentals were a big part of Horyna's improvement during her high school career.
"We do a lot of work on snapping the ball, and we try to practice fast so we can play fast in matches," she said. "Working on blocking also helped with my jumping ability."
Horyna will continue her athletic career next year at Hutchinson Community College, but it will be in basketball, where she is a four-year varsity player for the Lady Reds. In track and field, which she plans to finish out her prep career in the spring, she throws the shot put, discus and javelin, qualifying for the 2021 state meet in all three events.
"I think playing all three sports has made me a much better athlete for each one," Horyna said. "Basketball helps with defense and foot speed, track and field helps with developing strength and throwing helps with hitting speed."
She will take the lessons learned from the 2021 volleyball season and use them in the future, she said.
"Starting 0-10 and then finishing 19-6 shows that we stayed together and never gave up," Horyna said. "I'm satisfied with part of the season, but honestly I think we'd all like to go back and start the season over knowing how well we could play at the end of the season."
Only one other senior made the elite six-player first team, that being Mataya Clark of Dodge City. Three juniors and a freshman round out the group. Juniors include Rylie Hallman of Liberal, Valerie Luna of Great Bend and Carly Lang from conference champion Hays High. Garden City freshman Piper Harris was the other first teamer.
2021 WAC All-Conference Volleyball Team
| First Team | School | Year |
| --- | --- | --- |
| Bree Horyna** | Liberal | 12 |
| Rylie Hallman | Liberal | 11 |
| Mataya Clark | Dodge City | 12 |
| Piper Harris | Garden City | 9 |
| Valerie Luna | Great Bend | 11 |
| Carly Lang | Hays High | 11 |
**Player of the Year
| Second Team | School | Year |
| --- | --- | --- |
| Lizzy Cisneros | Liberal | 11 |
| Brook McReynolds | Great Bend | 12 |
| Aleyia Ruder | Hays High | 12 |
| Makenzie Lucas | Garden City | 11 |
| Mya Delacruz | Garden City | 12 |
| Ella Voth | Hays High | 12 |
Coach of the Year: Shannon Funk, Hays High School