Horyna and Mullens Share POY Honors
Brock Kappelmann - March 22, 2020 8:08 pm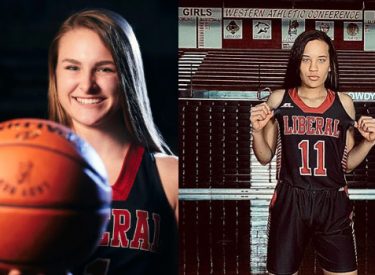 Player of the Years were determined by a statewide media vote (Over 25 media members from all parts of the state) of people that work in radio, newspaper, television and finalized by Chet Kuplen of Sports in Kansas and Conor Nicholl of Sports in Kansas. Players of the Year and Finalists are eligible for a Sports in Kansas Patch. Stay on our feed over the next few days for updated coverage and all-state teams. 
2020 Girls 6A Sports in Kansas Girls Player of the Year
Katie Horyna/Machia Mullens, Liberal, Sr.
Perhaps no 1-2 combination on the same team was more well-known than Liberal seniors Katie Horyna and Machia Mullens. The 5-foot-9 Horyna, the Western Athletic Conference Player of the Year and Liberal's point guard, has signed with Division I Abilene Christian. Mullens, a 6-foot starting post, has inked with Division I Kansas City, which earned a trip to the NCAA tournament for the first time in school history this winter. Mullens and Horyna finished first and second, respectively, in Redskin history in scoring. Mullens tallied 1,155 points, along with 652 rebounds and 195 blocks. Horyna scored 1,012 career points, 256 assists and 177 steals. Liberal won four straight WAC titles, achieved an 85-8 career record and 68-3 in the last three years.
Liberal went to state each of the past three winters, including third place in 5A in 2018 and 23-0 and final four in 6A this winter. Liberal was outstanding on both ends of the floor the last two years. Last winter, the Redskins had 1.02 points per possession and allowed .586. This year, Liberal was at .979 points per possession and .59 allowed.
This season, Horyna had 11.8 points, 3.7 rebounds, 2.1 assists and 1.7 steals a contest. Mullens led the team with 14.3 points, 7.7 rebounds and 2.3 blocks and also earned first team all-WAC.
–
The Liberal High School Booster Club would like to congratulate the Liberal HS girls basketball team on an outstanding season. Congrats to all of our players honored by Sports in Kansas. We are proud of you! 
—
Sports in Kansas 6A Girls POY Finalists
Order POY Finalist Patch at [email protected]
Nijaree Canady, Topeka
Kiki Smith, Topeka
Katie Horyna, Liberal POY
Machia Mullens, Liberal POY
Sydney Niiles, Derby
Zayanna Walker, Wichita Heights
LeLe Love, Olathe North
Dani Winslow, Olathe South
Kennedy Taylor, SM Northwest