Hooker High Looks to Continue Momentum
Brock Kappelmann - August 10, 2018 1:26 pm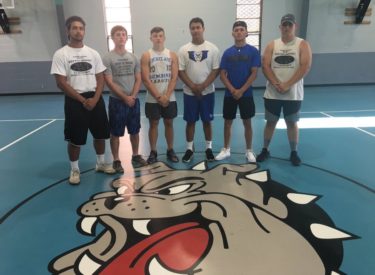 What a school year is was for Hooker.  The Bulldogs made the state semifinals in football and boys basketball and were the state runner up in track.  The district just transformed a former natatorium into an all purpose indoor facility with weights, turf, and hitting nets.  It is time to turn the page at Hooker, which isn't a bad thing either.  Hooker has eight starters back on offense and seven back on defense from last year's 12-2 team.  They have 40 out for football under second year head coach Trevor Powers.  And they have added two basketball players (Ethan Parsons and John Bean) who didn't play last year.  Hooker has 15 seniors, most of whom sniffed the sweet nectar of December football last year.  Hooker won three playoff games over Mangum, Ringling, and Hominy before a loss to 35-25 semifinal loss to Crescent.
The Bulldogs return Senior running back and free safety Tanner McBee after he rushed for 1,165 yards and 17 touchdowns as a junior.  Senior quarterback Yarbrough Allen passed for 2,432 yards and 33 touchdowns last year.  Other key Bulldogs include Sr. T/DE Kevin Alvarado, Sr. WR/LB Karder Neville, Sr. C Gabe Flanagan, Sr. WR/MLB Lakin Lynch, Sr. WR/LB Keshon Williams, So. T/DE Dillon Metcalf, and Jr. RB/DT Johnny Ugarte.
Hooker was featured during the Sportsguys on Friday morning on 1270 and kscbnews.net.
Schedule
Aug. 31- Merritt
Sept. 7- at Booker
Sept. 14- at Clayton
Sept. 21- Thomas
Sept. 28- at Fairview
Oct. 5- Beaver
Oct. 12- at Okeene
Oct. 18- Oklahoma Bible
Oct. 26- Mooreland
Nov. 2 at Texhoma (102.7 and kscbnews.net)