Homer Happy BJ's Climb Back in League Race
KSCB News - July 11, 2011 7:11 am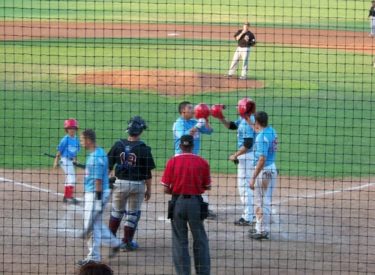 Liberal hit four home runs and held on for a crucial 13-11 win over the first place Haysville Heat Sunday night at Brent Gould Field. The win allows the Bee Jays (24-10, 14-9) to move to a half game out of first and allows Liberal to save some face after losing four of the first five against the Heat (20-11, 16-10).
Two nights after a 1-0 game, the teams combined for eight homeruns. Kansas State's Ross Kivett was the first BJ to go deep with a solo shot in the third which trimmed the Haysville lead to 3-2. But on a night of homeruns, it was a bad hop which paved the way to a seven run BJ fourth. New Mexico's Quay Grant hit a double play ball to second with one out and the Bee Jays trailing 5-3. But a bad hop caused the ball to roll into right center for a game tying two-RBI triple for Grant. Nicholls State's Blake Bergeron gave the Bee Jays a 6-5 lead after rolling a single up the middle to score Grant. Later in the inning, San Diego's Reyn Nagamine slugged a three run homer over the right-center field wall to make it 9-5 BJ's. Angelo State's Toby Semler made it back-to-back homers with a laser over the left-center field wall for his third of the year to make it 10-5.
Liberal added three more in the fifth to make it 13-7. Kivett tripled and Grant drove him home with a single before Bergeron hit his team leading fifth homer over the center field wall.
The Heat crept back in the game plating single runs in the sixth, seventh, eighth, and ninth. Wichita State's Cale Elam pitched two innings for his fifth save. Yavapai's Robbie Ingram (3-4), an Arizona signee, pitched three and one-third innings of relief for the win. New Mexico's Richard Olson made his first start going three and two-thirds innings.
Liberal is a half game out of first after the win. The Heat won four of the six games between the two teams.
Liberal plays at Derby Tuesday, Wednesday, and Thursday nights on Talkradio 1270 and kscbnews.net. The games begin at 7 p.m.