Homer Happy Bee Jays Top McPherson
Brock Kappelmann - June 16, 2021 6:42 am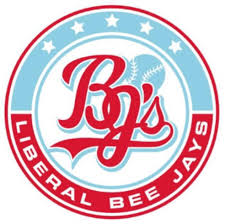 The Liberal Bee Jays slammed seven home runs Tuesday in a 13-10 win at McPherson against the Pipeliners.  Aidan Shepardson hit two home runs in the win.
The Bee Jays scored one in the first and four in the second for a 5-0 lead.  The Pipeliners roared back with six in the second. The BJ's tied the game with one in the third before McPherson plated two in the third for an 8-6 lead after three.  The BJ's scored in the fifth to make it 8-7.  Liberal chased three runs home in the seventh to lead 10-8 and three in the eighth to lead 13-8.  McPherson scored two in the ninth.
The Bee Jays out hit the Pipeliners 17-14.  Shepardson hit two homers for the Bee Jays while Cayde Ward, Ryan Proctor, Blaine Thomas, Quintt Landis, and AJ Folds hit home runs.  Shepardson was 3-4 with three RBI's and Landis was 3-4 with three runs.  Folds was 3-6 with three RBI's.
The Bee Jays struggled on the mound.  But Brady Bowles solidified things late with three scoreless innings with three strikeouts and no walks.  Cole Hillier tossed two shutout innings in his BJ debut.
The Bee Jays are 7-1.  The same two teams play Wednesday night at 7 at Light Capital Diamond.