Home Field Headaches Continue for Liberal
KSCB News - July 20, 2011 7:19 am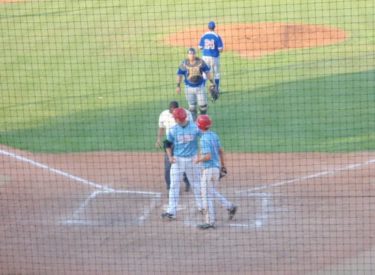 The Liberal Bee Jays are a shadow of what they were one month ago. Injuries have reduced the team to almost completely turning over their defensive lineup compared to what it was about one month ago when Liberal was on top of the Jayhawk West. Liberal even used a pitcher as a designated hitter Tuesday night in a game for first place against Hays. Liberal's defense was leaky to say the least with five errors leading to five unearned runs. The BJ's have lost five of their last six home games after a 9-5 home loss to the Hays Larks Tuesday night.
Hays scored three unearned runs in the first. Blake Bergeron blasted a two-run shot off the scoreboard for his team leading sixth of the season to make it 3-2. Hays scored another unearned run in the fourth to lead 4-2.
Liberal took a 5-4 lead with three in the fifth. Ross Kivett drove home a run with a ground ball single up the middle. Reyn Nagamine walked with the bases loaded to tie the game. Toby Semler's sacrifice fly to deep center gave Liberal the lead.
But the Larks struck for on in the seventh and four in the eighth including one more unearned run.
Starting pitcher Kasey Merck went four innings without allowing an earned run. He struck out three and walked one. Jared Moore went three innings allowing three runs but one was unearned.
Ross Kivett was 4-5 to lead the BJ offense while Bergeron, Dean Friedberg, and Greg McCall also had multiple hits.
Liberal is 26-14 overall and 16-13 in the Jayhawk League tied with Derby. Hays is 16-11 in the league and 24-13 overall.
The same two teams meet Wednesday night at Brent Gould Field for the final league home game. OBGYN and Associates are the buyout sponsor for the game which will air with the Dugout Show at 6:45 on Talkradio 1270 and kscbnews.net.