Holly Brown Finishes 5th at Track and Field NJCAA Nationals
KSCB News - May 22, 2010 12:00 am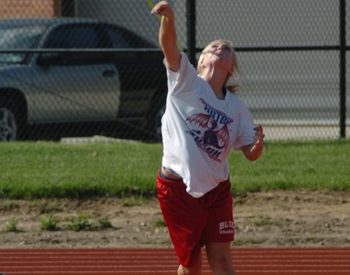 Former Southwestern Heights athlete Holly Brown who is a member of the Hutchinson Community College Track and Field team finished fifth in the javelin at the 2010 NJCAA Track and Field Championships on Saturday in Hutchinson.
Brown threw a 135'2 in Flight Two of the javelin throw scoring four points for the Lady Blue Dragons.
Brown battled back injuries throughout the season. She was out for two weeks due to the injury. Brown told KSCB News that it never did get better, but that she just had to tough it out.
"I know that if it (my back) wasn't hurting I could have thrown better, but I can't complain about getting fifth at nationals. I'm really proud of myself and what I have accomplished," Brown said.
Brown hopes to be injury free next season to have the ability to maybe win it all next year.
"Now I will just work harder this summer and heal so I can do even better next year and hopefully win it."
Brown was the Salutatorian of her class last year and was a starter on the Southwestern Heights 2009 girls' basketball state championship team, and also participated in track and field at Heights.