Historic Dodge Theater For Sale
KSCB News - May 11, 2010 12:00 am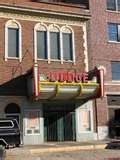 The owner of the historic Dodge Theater in Dodge City says he plans to sell the building.
The Dodge Theater has been part of the southwest Kansas town since the 1928. Mike Burkhart, who has owned the theater for 23 years, says he will put it on the auction block on June 24.
Burkhart says he hopes the next owner will turn the theater into a gathering place for residents.
The Topeka Capital-Journal reports that the theater is best known for hosting the 1939 premier of the movie, "Dodge City." It drew 50,000 people to the town, including actor Errol Flynn and Warner Brothers executives.
The theater is about 15,000 square feet and has 664 seats.