Highway 54 Reopened After Train Collision
KSCB News - June 26, 2012 1:00 pm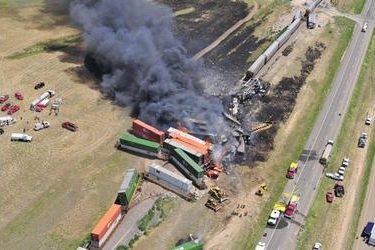 GUYMON, Okla. (AP) – U.S. Highway 54 southwest from Guymon has
reopened following a head-on collision involving two freight trains
that killed three crewmembers of the trains and sparked a diesel
fire.
Oklahoma Highway Patrol Trooper Betsy Randolph said Tuesday that
the highway reopened about 10:30 p.m. Monday after being shut down
following the Sunday morning crash between two Union Pacific Trains
near Goodwell.
The burned remains of the three victims have been recovered and
sent to the state Medical Examiner's office in Oklahoma City. A
fourth crewmember jumped from one of the trains and suffered minor
injuries.
The National Transportation Safety Board is investigating the
collision.