Highway 54 Claims Another Life
KSCB News - July 1, 2012 9:12 pm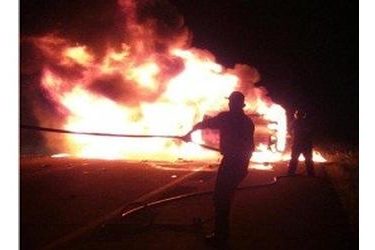 A Dodge City man was killed in a fiery accident early Sunday morning in Kiowa County. Kansas Highway Patrol officials say the crash happened just after midnight on U.S. 54 half a mile east of Haviland.
Investigators say Kevin Lee Dean Adams was driving eastbound on U.S. 54 when he crossed the center lane into oncoming traffic. Witnesses say Adams had earlier passed a vehicle on the two-lane highway without using his headlights.
Officials say a driver in a sport utility vehicle heading westbound on the highway tried to swerve to avoid Adams' car but could not get out of the way in time. The vehicles collided head-on and Adams was killed.
Cole Richardson, 19, of Augusta, says he and some friends saw the crash and stopped to help. Richardson says he climbed inside the SUV just as Adams' car burst into flames. With the help of his friends, he was able to pull the victim, a 22-year-old man from Arizona, out of the SUV moments before it also caught fire.
The driver of the SUV was taken to a nearby hospital with minor injuries. The accident is under investigation.