High Winds Drive Wildfires in Seward County
Joe Denoyer - April 12, 2018 11:04 pm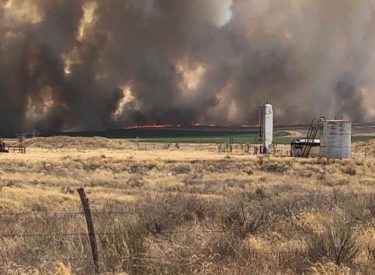 At about 2:30pm on Thursday afternoon, Seward County Fire Rescue was dispatched to a grass fire on Road 16 and Road G. Mutual Aid was immediately requested from Josh Dixon, Liberal City Fire, Haskell, Stevens, Grant, Turpin, Texas Co. Kansas Forest Service, KDEM, Kansas ANG, Seward County Sheriff's office, Kansas Fire Marshal And the State of Kansas Southwest Taskforce due to weather conditions.
The fire was a rapid spread fire burning North and then Northeast. The fire was contained around 6:30pm to approximately 2725 acres. Units continue to work and monitor the scene. Seward County asks that all residents be #firewise the next few days, as the weather conditions will favor out of control wildfires.
They want to thank all the local farmers who provided major help containing this fire with tractors and discs, and those that helped with supplying water.