High Wind Warning with Blowing Dust Expected Tuesday
KSCB News - March 11, 2014 6:08 am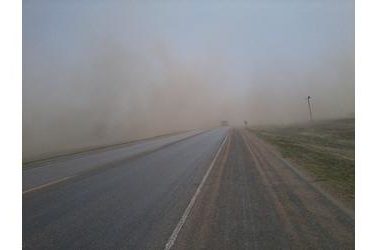 URGENT – WEATHER MESSAGE
NATIONAL WEATHER SERVICE DODGE CITY KS
409 AM CDT TUE MAR 11 2014
…HIGH WINDS WILL DEVELOP THIS AFTERNOON…
.AN INTENSE STORM SYSTEM MOVING EAST FROM THE ROCKIES ACROSS
KANSAS WILL LEAD TO HIGH WIND DEVELOPMENT AS A SURFACE LOW TRACKS
FROM SOUTHWEST NEBRASKA INTO CENTRAL KANSAS. VERY STRONG WINDS
WILL BE FOCUSED ACROSS THE ENTIRE REGION, HOWEVER AREAS WEST OF
HIGHWAY 283 TO THE COLORADO BORDER ARE EXPECTED TO SEE THE HIGHEST
WINDS WITH AREAS OF BLOWING DUST ALSO A CONCERN.
KSZ043>045-061>064-074>078-084>088-111800-
/O.UPG.KDDC.WI.Y.0008.140311T1700Z-140312T0400Z/
/O.NEW.KDDC.HW.W.0004.140311T1800Z-140312T0400Z/
SCOTT-LANE-NESS-HAMILTON-KEARNY-FINNEY-HODGEMAN-STANTON-GRANT-
HASKELL-GRAY-FORD-MORTON-STEVENS-SEWARD-MEADE-CLARK-
INCLUDING THE CITIES OF…SCOTT CITY…DIGHTON…NESS CITY…
SYRACUSE…LAKIN…DEERFIELD…GARDEN CITY…KALVESTA…JETMORE…
HANSTON…JOHNSON CITY…ULYSSES…SUBLETTE…SATANTA…
CIMARRON…MONTEZUMA…DODGE CITY…BUCKLIN…ELKHART…
RICHFIELD…HUGOTON…MOSCOW…LIBERAL…KISMET…MEADE…
FOWLER…ASHLAND…MINNEOLA
409 AM CDT TUE MAR 11 2014 /309 AM MDT TUE MAR 11 2014/
…HIGH WIND WARNING IN EFFECT FROM 1 PM CDT /NOON MDT/ THIS
AFTERNOON TO 11 PM CDT /10 PM MDT/ THIS EVENING…
THE NATIONAL WEATHER SERVICE IN DODGE CITY HAS ISSUED A HIGH WIND
WARNING…WHICH IS IN EFFECT FROM 1 PM CDT /NOON MDT/ THIS
AFTERNOON TO 11 PM CDT /10 PM MDT/ THIS EVENING. THE WIND
ADVISORY IS NO LONGER IN EFFECT.
* TIMING…THIS AFTERNOON THROUGH MID-EVENING…STRONGEST BETWEEN
5 PM AND 8 PM.
* WINDS…NORTH-NORTHWEST 35 TO 45 MPH GUSTING TO 60 MPH AT TIMES.
* BLOWING DUST…WIDESPREAD VISIBILITY AROUND 1 TO 2 MILES CAN BE
EXPECTED WITH MUCH LOWER VISIBILITY AROUND LOOSE AGRICULTURAL
FIELDS.
* IMPACTS…HAZARDOUS TRAVEL ESPECIALLY ALONG EAST TO WEST ROADS
AND NEAR GRAIN ELEVATORS AND WIND BREAKS. LIGHT STRUCTURAL
DAMAGE MAY ALSO OCCUR ALONG WITH SPORADIC POWER OUTAGES.
PRECAUTIONARY/PREPAREDNESS ACTIONS…
THE KANSAS DEPARTMENT OF HEALTH AND ENVIRONMENT, BUREAU OF AIR,
RECOMMENDS THAT YOU TAKE PREVENTATIVE MEASURES DUE TO POSSIBLE
HIGHER DUST CONCENTRATIONS DURING THIS HIGH WIND EVENT. HIGHER
LEVELS OF DUST CAN CAUSE RESPIRATORY PROBLEMS, DECREASE LUNG
ACTIVITY, AGGRAVATE ASTHMA, AND LEAD TO POTENTIAL HEART-RELATED
PROBLEMS, ESPECIALLY WITH CHILDREN, ELDERLY, OR THOSE WITH PRE
EXISTING RESPIRATORY CONDITIONS.