High Wind Warning Thursday
Brock Kappelmann - April 6, 2022 6:00 am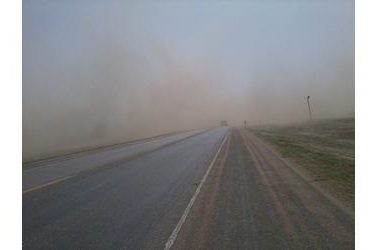 URGENT - WEATHER MESSAGE
National Weather Service Dodge City KS
1118 PM CDT Wed Apr 6 2022

KSZ030-031-043>046-061>065-074>080-084>089-080100-
/O.EXT.KDDC.HW.W.0005.220407T1500Z-220408T0100Z/
Trego-Ellis-Scott-Lane-Ness-Rush-Hamilton-Kearny-Finney-Hodgeman-
Pawnee-Stanton-Grant-Haskell-Gray-Ford-Edwards-Kiowa-Morton-
Stevens-Seward-Meade-Clark-Comanche-
Including the cities of Wakeeney, Pfeifer, Hays, Scott City,
Scott State Lake, Dighton, Ness City, La Crosse, Syracuse, Lakin,
Deerfield, Garden City, Jetmore, Hanston, Larned, Johnson City,
Ulysses, Sublette, Satanta, Cimarron, Montezuma, Dodge City,
Kinsley, Lewis, Greensburg, Haviland, Elkhart, Hugoton, Liberal,
Meade, Plains City, Fowler, Ashland, Minneola, Coldwater,
Lake Coldwater, and Protection
1118 PM CDT Wed Apr 6 2022 /1018 PM MDT Wed Apr 6 2022/

...HIGH WIND WARNING NOW IN EFFECT FROM 10 AM CDT /9 AM MDT/ TO
8 PM CDT /7 PM MDT/ THURSDAY...

* WHAT...Northwest winds 35 to 45 mph with gusts up to 65 mph
  expected. Blowing dust will reduce visibility at times.

* WHERE...Portions of central, south central, southwest and west
  central Kansas.

* WHEN...From 10 AM CDT /9 AM MDT/ to 8 PM CDT /7 PM MDT/
  Thursday.

* IMPACTS...Damaging winds may blow down trees and power lines.
  Isolated power outages are expected. Travel will be difficult,
  especially for high profile vehicles.


PRECAUTIONARY/PREPAREDNESS ACTIONS...

If possible, remain in the lower levels of your home during the
windstorm, and avoid windows. Use caution if you must drive.