High Wind Warning Posted Wednesday
KSCB News - May 25, 2011 6:11 am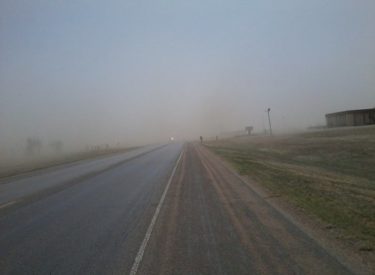 A HIGH WIND WARNING REMAINS IN EFFECT UNTIL 8 PM CDT /7 PM MDT/
THIS EVENING.
* TIMING: STRONG NORTHWEST WINDS CAN BE EXPECTED THROUGH THE MID
AFTERNOON. THESE VERY STRONG WINDS WILL THEN BEGIN TO SLOWLY
SUBSIDE.
* WINDS: NORTHWEST WINDS WILL BE AT 35 TO 45 MPH WITH WIND GUSTS
IN EXCESS OF 60 MPH POSSIBLE. THESE STRONG GUSTY WINDS WILL
CONTINUE THROUGH THE MID AFTERNOON AND THEN BEGIN TO SLOWLY
SUBSIDE BACK INTO THE 30 TO 35 MPH RANGE BY SUNSET.
* IMPACTS: MOTORISTS SHOULD EXERCISE CAUTION WHILE DRIVING EARLY
THIS MORNING AND DURING THE DAY ON WEDNESDAY. MOTORIST SHOULD
ALSO BE ALERT TO SUDDEN GUSTS OF WIND WHICH MAY CAUSE YOU TO
LOSE CONTROL OF YOUR VEHICLE. HIGH WINDS CAN TOPPLE TREES…
BLOW WEAKENED ROOFS OFF HOUSES…AND DOWN POWER LINES.
PRECAUTIONARY/PREPAREDNESS ACTIONS…
A HIGH WIND WARNING MEANS A HAZARDOUS HIGH WIND EVENT IS EXPECTED
OR OCCURRING.
&&