High Wind Warning for Western Panhandles
Brock Kappelmann - March 24, 2017 6:01 am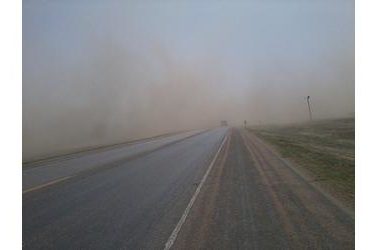 URGENT - WEATHER MESSAGE
National Weather Service Amarillo TX
544 AM CDT Fri Mar 24 2017

OKZ001-002-TXZ001>004-006>009-011>014-016>019-241900-
/O.UPG.KAMA.HW.A.0004.170324T1500Z-170325T0100Z/
/O.NEW.KAMA.HW.W.0004.170324T1500Z-170325T0100Z/
Cimarron-Texas-Dallam-Sherman-Hansford-Ochiltree-Hartley-Moore-
Hutchinson-Roberts-Oldham-Potter-Carson-Gray-Deaf Smith-Randall-
Armstrong-Donley-
Including the cities of Boise City, Keyes, Guymon, Dalhart,
Stratford, Spearman, Gruver, Perryton, Hartley, Channing, Dumas,
Borger, Miami, Vega, Amarillo, Panhandle, White Deer, Pampa,
Hereford, Canyon, Claude, and Clarendon
544 AM CDT Fri Mar 24 2017

...HIGH WIND WARNING IN EFFECT FROM 10 AM THIS MORNING TO 8 PM
CDT THIS EVENING...

The National Weather Service in Amarillo has issued a High Wind
Warning...which is in effect from 10 AM this morning to 8 PM CDT
this evening. The High Wind Watch is no longer in effect.

* Timing...From 10 AM this morning until 8 PM CDT this evening.

* Winds...Sustained northwest to north winds of 40 to 45 mph with
  gusts of 60 to 65 mph are expected across the western and
  central Oklahoma Panhandle as well as most of the Texas
  Panhandle. Isolated wind gusts to around 70 mph will be possible
  across mainly the far western sections of the area.

* Impacts...High winds can blow down small outbuildings and
  break limbs. Sudden wind gusts can cause drivers to lose
  control... especially in lightweight or high profile vehicles.
  Strong winds can cause blowing dust...reducing visibility...
  and cause flying debris. Isolated power outages could be
  possible.