High Wind Warning for Tuesday
Brock Kappelmann - June 8, 2020 3:12 pm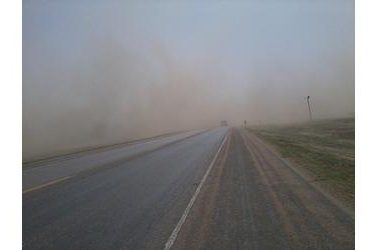 URGENT - WEATHER MESSAGE
National Weather Service Dodge City KS
259 PM CDT Mon Jun 8 2020

KSZ030-043>045-061>064-074>078-084>088-091030-
/O.UPG.KDDC.HW.A.0002.200609T1400Z-200610T0200Z/
/O.NEW.KDDC.HW.W.0004.200609T1300Z-200610T0200Z/
Trego-Scott-Lane-Ness-Hamilton-Kearny-Finney-Hodgeman-Stanton-
Grant-Haskell-Gray-Ford-Morton-Stevens-Seward-Meade-Clark-
Including the cities of Wakeeney, Scott City, Scott State Lake,
Dighton, Ness City, Syracuse, Lakin, Deerfield, Garden City,
Jetmore, Hanston, Johnson City, Ulysses, Sublette, Satanta,
Cimarron, Montezuma, Dodge City, Elkhart, Hugoton, Liberal,
Meade, Plains City, Fowler, Ashland, and Minneola
259 PM CDT Mon Jun 8 2020 /159 PM MDT Mon Jun 8 2020/

...HIGH WIND WARNING IN EFFECT FROM 8 AM CDT /7 AM MDT/ TO 9 PM
CDT /8 PM MDT/ TUESDAY...

* WHAT...Northwest winds 35 to 45 mph with gusts up to 60 mph
  expected.

* WHERE...Portions of southwest and west central Kansas.

* WHEN...From 8 AM CDT /7 AM MDT/ to 9 PM CDT /8 PM MDT/ Tuesday.

* IMPACTS...Damaging winds will blow down trees and power lines.
  Widespread power outages are expected. Travel will be difficult,
  especially for high profile vehicles. Locally reduced
  visibilities will be possible at times due to blowing dust.