High Wind Warning for Southwest Kansas
Brock Kappelmann - April 13, 2018 6:08 am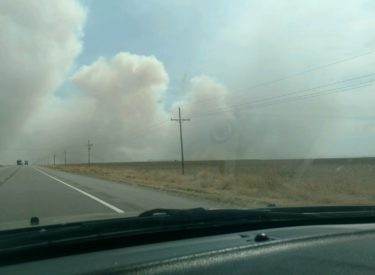 URGENT - WEATHER MESSAGE
National Weather Service Dodge City KS
413 AM CDT Fri Apr 13 2018

KSZ030-031-043>046-061>066-074>081-084>090-132100-
/O.EXT.KDDC.HW.W.0009.180413T1700Z-180415T0000Z/
Trego-Ellis-Scott-Lane-Ness-Rush-Hamilton-Kearny-Finney-Hodgeman-
Pawnee-Stafford-Stanton-Grant-Haskell-Gray-Ford-Edwards-Kiowa-
Pratt-Morton-Stevens-Seward-Meade-Clark-Comanche-Barber-
Including the cities of Wakeeney, Pheifer, Hays, Scott City,
Scott State Lake, Dighton, Ness City, La Crosse, Syracuse, Lakin,
Deerfield, Garden City, Jetmore, Hanston, Larned, St. John,
Stafford, Macksville, Johnson City, Ulysses, Sublette, Satanta,
Cimarron, Montezuma, Dodge City, Kinsley, Lewis, Greensburg,
Haviland, Pratt, Elkhart, Hugoton, Liberal, Meade, Plains City,
Fowler, Ashland, Minneola, Coldwater, Lake Coldwater, Protection,
Medicine Lodge, and Kiowa
413 AM CDT Fri Apr 13 2018 /313 AM MDT Fri Apr 13 2018/

...HIGH WIND WARNING NOW IN EFFECT FROM NOON CDT /11 AM MDT/
TODAY TO 7 PM CDT /6 PM MDT/ SATURDAY...

* TIMING...From noon today through 7 pm Saturday

* WINDS... Sustained northwest winds of 30 to 40 mph with some
  wind gusts as high as 60 mph.

* IMPACTS...Occasional power interruption will also be possible.
  Travel could become hazardous where there are strong cross
  winds, especially around grain elevators. Areas of blowing dust
  Friday will also occur over open agricultural fields creating
  highly variable visibility. Blowing snow late tonight and early
  Saturday will also reduce visibilities, especially along the
  I-70 corridor.


PRECAUTIONARY/PREPAREDNESS ACTIONS...

A High Wind Warning means a hazardous high wind event is expected
or occurring. Sustained wind speeds of at least 40 mph or gusts
of 58 mph or more can lead to property damage.