High Wind Warning for Friday
Brock Kappelmann - January 14, 2022 6:03 am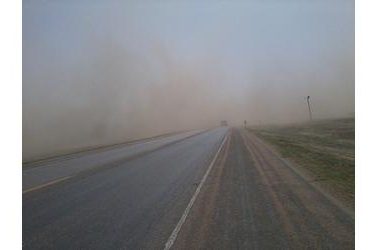 URGENT - WEATHER MESSAGE
National Weather Service Dodge City KS
356 AM CST Fri Jan 14 2022

KSZ043-044-061>063-074>077-084>087-142200-
/O.UPG.KDDC.HW.A.0001.220114T1800Z-220115T0000Z/
/O.NEW.KDDC.HW.W.0001.220114T1800Z-220115T1200Z/
Scott-Lane-Hamilton-Kearny-Finney-Stanton-Grant-Haskell-Gray-
Morton-Stevens-Seward-Meade-
Including the cities of Scott City, Scott State Lake, Dighton,
Syracuse, Lakin, Deerfield, Garden City, Johnson City, Ulysses,
Sublette, Satanta, Cimarron, Montezuma, Elkhart, Hugoton,
Liberal, Meade, Plains City, and Fowler
356 AM CST Fri Jan 14 2022 /256 AM MST Fri Jan 14 2022/

...HIGH WIND WARNING IN EFFECT FROM NOON CST /11 AM MST/ TODAY TO
6 AM CST /5 AM MST/ SATURDAY...

* WHAT...North winds 30 to 45 mph with gusts up to 60 mph
  expected.

* WHERE...Portions of southwest and west central Kansas.

* WHEN...From noon CST /11 AM MST/ today to 6 AM CST /5 AM MST/
  Saturday.

* IMPACTS...Tree damage, light structural damage, and sporadic
  power outages will be possible with high winds. Travel will be
  difficult, especially for high profile vehicles and around
  grain elevators.

* ADDITIONAL DETAILS...Given the expanding drought conditions,
  areas of blowing dust will likely occur, especially across far
  west central and southwest Kansas. Visibility can be reduced
  locally to less than one mile in blowing dust.

PRECAUTIONARY/PREPAREDNESS ACTIONS...

The Kansas Department of Health and Environment recommends that
you take preventative measures during this blowing dust
event...such as staying indoors or wearing protective breathing
masks if outside. High dust concentrations can cause respiratory
problems...decrease lung activity...aggravate asthma...and lead
to potential heart-related problems...especially with
children...elderly...or those with pre-existing respiratory
conditions.


URGENT - WEATHER MESSAGE
National Weather Service Amarillo TX
317 AM CST Fri Jan 14 2022

OKZ001>003-TXZ001>004-006-007-141800-
/O.UPG.KAMA.HW.A.0001.220114T1800Z-220115T0000Z/
/O.NEW.KAMA.HW.W.0001.220114T1600Z-220115T1200Z/
Cimarron-Texas-Beaver-Dallam-Sherman-Hansford-Ochiltree-Hartley-
Moore-
Including the cities of Hartley, Spearman, Channing, Forgan,
Boise City, Dalhart, Gruver, Masterson, Romero, Conlen, Waka,
Perryton, Stratford, Wolf Creek Park, Keyes, Beaver, Four Way,
Ware, Farnsworth, Dumas, and Guymon
317 AM CST Fri Jan 14 2022

...HIGH WIND WARNING IN EFFECT FROM 10 AM THIS MORNING TO 6 AM CST
SATURDAY...

* WHAT...North winds 35 to 45 mph with gusts up to 65 mph expected.

* WHERE...In Oklahoma, Beaver, Cimarron and Texas Counties. In
  Texas, Dallam, Hansford, Hartley, Moore, Ochiltree and Sherman
  Counties.

* WHEN...From 10 AM this morning to 6 AM CST Saturday.

* IMPACTS...Damaging winds will blow down trees and power lines.
  Widespread power outages are expected. Travel will be difficult,
  especially for high profile vehicles.

PRECAUTIONARY/PREPAREDNESS ACTIONS...

Remain in the lower levels of your home during the windstorm, and
avoid windows. Watch for falling debris and tree limbs. Use caution
if you must drive.

&&