High School Football Returns to Airwaves
KSCB News - September 4, 2013 2:08 pm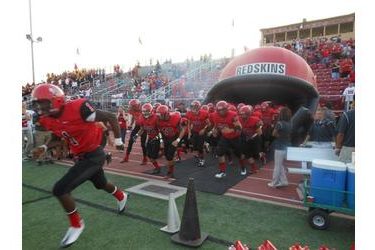 Seward County Broadcasting's myriad of high school football coverage kicks off this week on Talkradio 1270 and 102.7, The Legend. It's a familiar format to past years with two football preview shots at Billy's on Thursday nights with two games on air Friday nights.
Brock Kappelmann will host the Rowdy Crowd Show with Liberal head coach Cliff Abbott Thursday nights at 5:30 on 1270 and kscbnews.net where the broadcast will be available online, on smart phones, mobile devices, and Veto Cable channel 9.
At 6 p.m. Thursday's on 102.7 and kscbnews.net and channel 9, it's On the Sidelines with Brock Kappelmann, Jack Jacob, and a different area team each week. That schedule is available below.
Friday night football coverage begins at 5 p.m. on 1270, kscbnews.net, and Veto Cable channel 9 as Brock Kappelmann hosts Coach Speak talking with area football coaches. All the Liberal High games will air on those same mediums as Redskin pre-game begins at 6 each week with a 7 p.m. kick off each week. Rick Potts will cover the sidelines and Alan Brown will provide color commentary again with Kappelmann providing play-by-play. The Kansas High School Scoreboard show begins at 10 p.m. Friday nights.
Joe Denoyer will join Jack Jacob in the booth for The Legend's Game of the Week Friday nights on 102.7. The schedule is listed below.
For additional sports coverage, tune in for the Sportsguys weekday mornings between 7:37 and 9 on 1270 and sportscasts at 7, 8, and noon on B107.5 and at 7 a.m. on 102.7.
LHS Football Schedule with Redskin Pre-game at 6 p.m.
Sept. 6- at Ulysses
Sept. 13- Guymon
Sept. 20- Hays
Sept. 27- at Dodge City
Oct. 4- Garden City (Homecoming)
Oct. 11- at Great Bend
Oct. 18- Goddard
Oct. 25- at Goddard Eisenhower
Nov. 1- Bishop Carroll
2013 Game of the Week Schedule
September 6- Sublette at Southwestern Heights SWH On the Sidelines
September 13- Moscow at Satanta Satanta On the Sidelines
September 20- Deerfield at Moscow Moscow On the Sidelines
September 27- Turpin at Hooker Hooker On the Sidelines
October 4- Stanton County at Meade Meade On the Sidelines
October 11- Southwestern Heights at Hugoton Hugoton On the Sidelines
October 18- Syracuse at Sublette Sublette On the Sidelines
October 25- Okeene at Beaver Beaver on the Sidelines
November 1- Tyrone at Buffalo Tyrone On the Sidelines
November 8- Turpin at Beaver Turpin On the Sidelines