High Hopes for Hooker and New Coach
Brock Kappelmann - August 14, 2017 3:25 pm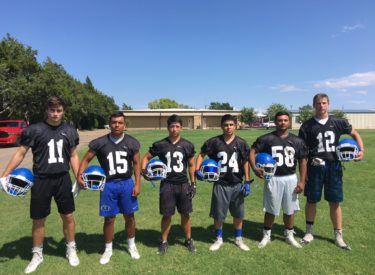 Vype magazine thinks enough of the Hooker Bulldogs to rank them number seven in Class A.  Hooker has eight starters back on both sides of the ball and 35 out for football after a 7-4 season last year.  Trevor Powers steps in as head coach.  If that name sounds familiar that's because he is a 2005 Texhoma High School graduate.  His brother Jack Powers quarterbacked Texhoma years later.  Or it may be a familiar name because he has been the head coach at district foe Sayre the past two years.  Powers says he's excited about a solid core of seniors and a very good group of juniors.
Some of the key Hooker playrs are Sr. RB/LB Nick Barrios, Sr. Wr/S Dawson Metcalf, Sr. WR/CB Isahi Vargas, Sr. WR/LB Cade Fischer, Sr. WR/CB Lenny Fernandez, Sr. lineman and punter Efren Castaneda, Sr. G/LB Diego Mendoza, Jr. RB/S Tanner McBee, Jr. QB Donovan Yarbrough, JR. WR/LB Karder Neville, and Jr. T/DE Kevin Alvarado.
The Bulldogs were featured during the Sportsguys Monday morning.
Schedule
Aug. 25- Sayre
Sept. 1- Meade
Sept. 8- at Merritt
Sept. 15- Clayton
Sept. 22- at Texhoma
Sept. 29- Okeene
Oct. 6- at Thomas
Oct. 13- Beaver
Oct. 19- at Mooreland
Oct. 27- Fairview