Heat Killing Cattle In Kansas
KSCB News - July 20, 2010 12:00 am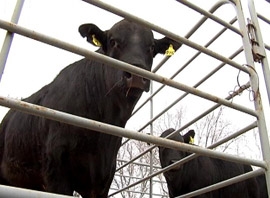 Kansas livestock owners say intense heat caused hundreds of head of cattle to die over the weekend.
Broadcast reports indicate the biggest losses came at Ottawa County
Feeders in Bennington. The owner of the feedlot says the cattle
wouldn't eat because it was too hot.
Kansas Angus Association vice presdient Joe Hite says he tries
to keep his cattle in a grassy and shaded Sedgwick County pasture.
He says some livestock are more tolerant than others, but his black
Angus cattle are especially susceptible because of their black
hair.
The dangerous temperatures in Kansas usually continue through
late August, and farmers are used to dealing with the heat.
They have to adapt, since losing even one cow or bull can cost a
farmer up to $2,500.