Heat Hold Down Bee Jays to Take Series
KSCB News - June 24, 2013 6:49 am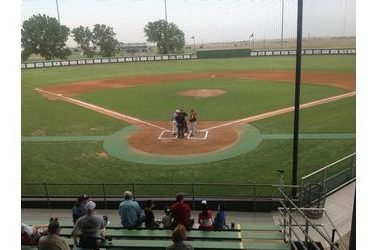 The Wellington Heat held down the Liberal Bee Jays to win 6-2 at Brent Gould Field in Liberal Sunday night. The Heat plated six unanswered runs to win the series 2-1. The Bee Jays have already dropped two home series this season.
Liberal struck first when TCU's Dylan Delso ripped a double down the leftfield line on a 3-0 pitch to score Texas State's Lewis Guilbeau. Liberal scored again in the third when Grayson's Zach Reding lined a single to right to score Wichita State's Tanner Kirk who singled to lead off the inning. But Liberal ran themselves out of the inning when a baserunner tried to advance from first to second on a pop up to short. The Bee Jays looked to add to their lead in the fourth with two on and no outs. But when Liberal missed a bunt, a BJ baserunner was thrown out at third trying to steal and that killed the inning.
Wellington scored two in the fifth, two in the sixth, and two unearned runs thanks to anothe BJ error at shortstop in the eighth. Liberal only had one error in the game but committed a mind numbing 13 errors for the weekend.
Seward's Austin King win five and one third strong innings allowing two runs in a no decision.
Liberal is 10-9 overall and 6-9 in the Jayhawk League. Wellington is 12-8 overall and 7-8 in the Jayhawk.
The BJ's host the Boulder Collegians Monday night at 7 and Holiday Inn Express Hotel and Suites is the buyout sponsor.