Heartbreak in Hays
Brock Kappelmann - September 15, 2018 2:22 am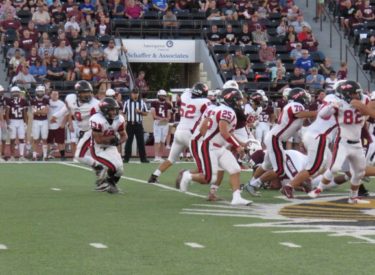 Hays blocked Liberal's PAT game tying attempt to help secure a 21-20 win over Liberal Friday night at Lewis Field in Hays.  Liberal used the big play and three Indian turnovers for some success while Hays used time consuming drives and a strong running game from their quarterback Palmer Hutchison and running back Hayden Brown.
John Aung intercepted his first of two Palmer Hutchison passes at the 5:03 mark of the first quarter.  Jaylin Staten's 65 yard touchdown run gave the Redskins the game's first score at the 4:50 mark of the first quarter.  Hays marched 80 yards on the ensuing drive to tie the game at 7-7 with :44 seconds remaining in the first quarter.  Aung intercepted another pass at the 5:21 mark of the second quarter.  Lee Hatcher pounced on a fumble with 1:33 to go in the half.  However, LHS was unable to take advantage of the two late turnovers.
Syrus Dunlap dashed 59 yards for a Redskin score at the 6:34 mark to lead 14-7 in the third quarter.  Hays responded again after the Redskin score with a TD with 4:16 to play in the third.  Tavian Creamer intercepted a Dunlap pass with :55.4 second to go in the third.  Hays converted a 4th and 3 into a Hutchison 50 yard scamper to the LHS three.  They would score to lead 21-14 with 9:32 remaining in the game.  Dunlap lofted a six yard pass over the top of the Hays defense to tight end Lee Hatcher for a score to make it 21-20 with 2:17 to play.  Hays blocked the extra point attempt and gained one first down to win the game.
Unofficially, Liberal had 325 yards and Hays had 315.  Dunlap rushed for 141 yards.  For Hays, Hayden Brown, the son of former LHS great and current Fort Hays State head coach Chris Brown, rushed for 151 yards and Hutchison went for 140 on the ground.
Liberal is 1-2 and 0-1 in the WAC while the Indians are 1-2 and 1-1 in the WAC.  Liberal plays at Wichita Southeast Friday night at Carpenter Stadium at Wichita South.  The game kicks off at 7 with Redskin Pre-game at 6 on 1270 and kscbnews.net.
Photos by Eric Smalldridge
Audio from first half of game:
Audio from second half and postgame interview: