Hearing Set on Trail Collision in Panhandle
KSCB News - February 26, 2013 5:52 am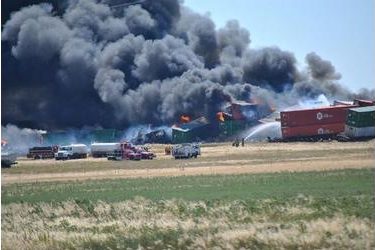 OKLAHOMA CITY (AP) – The National Transportation Safety Board is to hold a hearing on a head-on train collision in the Oklahoma Panhandle.
Tuesday's hearing is to start at 9 a.m. in Washington, D.C.
The June 24, 2012, crash between Union Pacific trains near Goodwell killed three of four crewmembers on the two trains. A fourth crewmember survived after jumping from one of the trains just before the crash.
A preliminary report said the eastbound train was traveling at 64 miles per hour and the westbound train at 38 miles per hour when they collided. The speed limit is 70 miles per hour in the area.
The NTSB has said it's looking into possible human error and is analyzing recorders found in the wreckage to determine if the crews were receiving signals properly.