Head On Collision Sends Four To The Hospital
KSCB News - May 13, 2010 12:00 am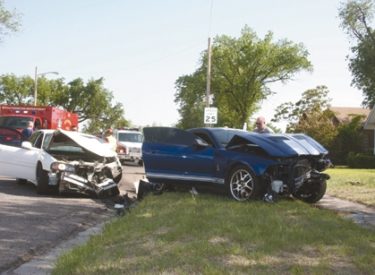 Main Street between Tenth and Twelfth in Guymon was closed for about an hour yesterday evening after a head on collision resulted in four people being transported to the hospital.
Guymon Police and Fire Department were called to the scene shortly after 5pm. A Navy Blue Mustang had collided head on with a White Chevrolet Impala.
According to a report in the Guymon Daily Herald, the Mustang, driven by John Ledbetter of Guymon, was traveling down Main Street at a rate of speed that was believed to be more than the speed limit. The Mustang was over the turning lane, crossing the yellow line into oncoming traffic.
Eyewitness John Spain stated that he was forced to veer almost off the road in order to avoid collision with the Mustang. Spain explained that he was watching in his rear-view mirror when he saw two other vehicles having to avoid the Mustang.
Ledbetter reportedly collided head-on to the Impala driven by Annie Seymour of Guymon. Seymour's vehicle had two female passengers. Both vehicles were then forced halfway onto a nearby yard and the side of the road, blocking traffic.
Ledbetter, Seymour and her passengers were all transported to Memorial Hospital of Texas County. As of press time, their conditions could not be released. An official police statement or report was also not available.