Haysville Pitching Brings the Heat
KSCB News - July 9, 2011 7:27 am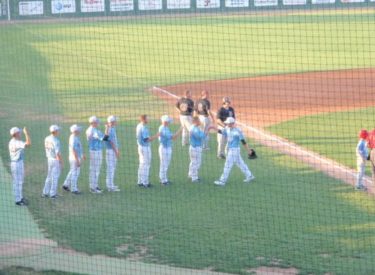 Haysville's pitching out-gunned Liberal's offense Friday night in round one of a key series between the top two teams in the Jayhawk League. The Heat took over first with a 1-0 win over the BJ's. The Heat are 15-9 in the Jayhawk after two straight shutout wins (3-0 over Derby Thursday). Liberal falls to 13-8 in the Jayhawk. The teams amassed only five hits a piece in the pitcher's dual between Haysville's Dexter Spitznogle (Nebraska) and Liberal's Jared Moore (Kansas State).
Moore made a spot start and pitched into the seventh allowing just one run in six innings pitched. Hawaii's Brent Harrison pitched one and two-thirds scoreless innings. Newcomer from New Mexico Richard Olson pitched one-third scoreless. Wichita State's Cale Elam worked a scoreless ninth.
Haysville scored their run on a PJ Garcia infield hit in the seventh to drive home their catched Anderson who had doubled and gone to third on a previous ground out.
Liberal's best chance to score was the first when they had runners at the corners with no outs.
Liberal is 23-9 overall and 13-8 in the Jayhawk. Tonight's game is also for first place. The Myriad Machine Company is the buyout sponsor and will give away 25 dollars every inning until the eighth when they will give away 100 dollars. The game will air on Talkradio 1270 and kscbnews.net.
Elsewhere in the Jayhawk, Derby gains on Liberal with a 9-8 come from behind win over Dodge City. It was 8-0 Dodge going to the bottom of the seventh. The Twins are 14-10 in the Jayhawk.