Haysville Hands Bee Jays their First Loss
Brock Kappelmann - June 15, 2022 6:42 am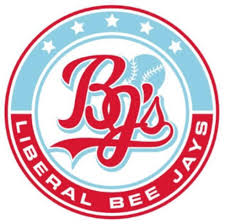 The Liberal Bee Jays lost for the first time in 2022.  The Haysville Aviators took a 14-6 non league game Tuesday night at Vulcan Field in Haysville.  Liberal falls to 7-1 overall.
The Aviators scored three in the first and the BJ's plated single runs in the first, second, and third to tie it.  Haysville scored one in the third and five in the fourth to lead 9-3.  Liberal crept back in the game with three in the fifth to make the score 9-6.  Haysville scored one in the seventh and four in the eighth.
Both teams had 13 hits and both teams committed one error.  Gavin Brzozowski, Zach Yorke, and Jack Arthur had three hits a piece.  Brzozowski and Arthur also hit triples.  Luke Smith was 2-5 with two RBI's and two runs.  Liberal struggled on the mound but Jackson Berry went 3 and 1/3 allowing one earned run with six strikeouts and no walks.
Liberal is 7-1 and plays a non league game at Dodge City Wednesday night at 7pm.  The Bee Jays will put on a youth clinic in Perryton Wednesday morning at 10am.