Hays Wins Southwest Classic
KSCB News - January 10, 2011 6:54 am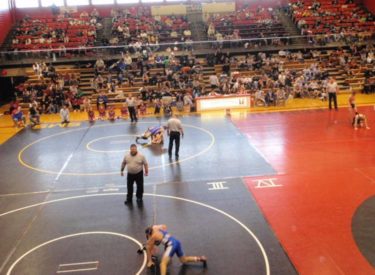 Two emerging wrestling teams (Hays and Hugoton) made their presence known Saturday at a Southwest Classic that began at 9 a.m. and ended at around 10 p.m. Hays scored 139.5 points to win followed by Goodland at 132 and Albuquerque Cleveland with 130.5. Hugoton made one of their strongest showings at the classic with 130.5 points. Colby scored 119.5 followed by Grandview, Colorado (91.5); La Junta (89); Pratt (85); Ulysses (81); Amarillo Tascosa (71); Liberal was 11th (49); Lakin (49); Cimarron (42); Elkhart (21); Holcomb (19); and Sublette (4).
Robbie Hines of Ulysses took first at 125 pounds while Patrick Weaver of Hugoton won 1st and 140 pounds. Liberal's Adebayou Braimah was 2nd at 140. Other second place finishers include Jason Perez of Ulysses at 103, Tyler McBride of Hugoton at 130, Ty Haller of Hugoton at 189, and Colton Lisolo of Hugoton at 215. Third place finishers in the listening area include Seph Iman of Elkhart at 135, Rusty Guerrero of Hugoton at 152 and Armando Sandoval of Ulysses at 171. Cody Hill of Hugoton was 4th at 145 while Hugoton's Lawson Fiss at 135 and Razzy Morales of Ulysses at 140 took fourth.
Liberal's Ayodole Braimah had a 3-2 record at 145. Osvaldo Ramirez at 119, Alejandro Avila at 125, and Cody Smith at 130 all went 2-2. Liberal wrestled without Justin McPhail who is unbeaten and ranks fifth at 215 pounds in Kansas 5A. He was competing for a spot in next year's Army All American football game.