Hays Sweeps Liberal for WAC Title
Brock Kappelmann - April 26, 2019 9:13 pm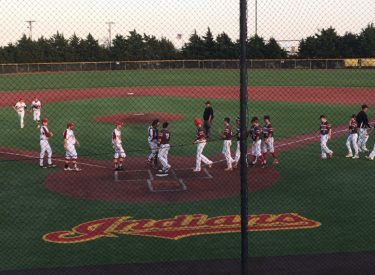 The Hays Indians won their 18th WAC title under coach Frank Leo in the coach's final season. The Indians swept the Liberal Redskins 1-0 and 13-3 in five innings Friday in Hays.
In game one, Braxton Hyde pitched all six innings in the loss. Hyde falls to 5-1 despite six strikeouts and three walks. Hyde hit a batter with the bases loaded in the bottom of the fourth for the lone run. LHS only had three hits. The Redskins had several chances to score. The Skins has runners on first and second with two outs in the second but didn't score. Dylan Thompson reached on an error and made it two third on two wild pitches with no outs in the fifth but didn't score. The Skins had two on with two outs in the seventh and didn't score.
In game two, Hays scored three in the second before the Skins countered with a run in the third. Kyle Purdy  reached on an error and scored on a dropped third strike. Hays scored 10 runs on nine hits in the third. Purdy's two RBI double plated two in the third.
Liberal is 10-6 and 3-4 in the WAC. Hays is 13-1 and wins the WAC at 7-1.  Liberal plays St James Academy, Kansas City Christian, and St Thomas Aquinas next weekend in Kansas City.
Game 1 audio:
Game 2 audio: