Hays Run Enough to Hold Off Redskins
Brock Kappelmann - January 5, 2019 7:47 am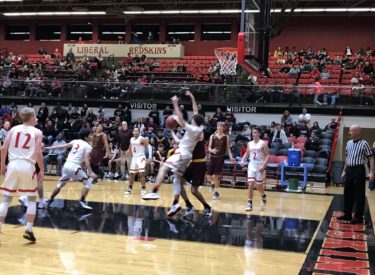 You aren't going to win many games when allowing runs of 24-3 and 29-5.   That rang true for the Liberal Redskins Friday night in their WAC opener against the visiting Hays Indians in the Big House.  After going 8-0 in the WAC last year, Hays opened the conference season with a 68-56 win over Liberal Friday night.
The Redskins burst out of the locker room to a 10-0 lead.  They led the Indians 13-8 after one quarter.  The Skins led 19-10 and 21-12 early in the second quarter before Hays defensive pressure caused the Skins to wilt.  The Indians used a 19-3 run into the locker room to lead 31-24 at the half.  Hays built third quarter leads of 36-24 for a 24-3 run and a 41-26 lead for a 29-5 run.
Braxton Hyde and Jordan Mendoza scored 14 a piece.  Brody Sumner added eight.
Hays is 4-2 and 1-0 in the WAC and Liberal is 5-2 and 0-1.  The Redskins play at Garden City Tuesday night at about 7:45 on 1270 and kscbnews.net.  Liberal's next home game is February 5.