Hays Hands Liberal Fourth Straight Loss
Brock Kappelmann - October 14, 2022 10:16 pm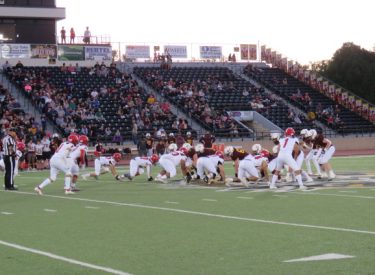 Two teams on the  opposite side of the spectrum.  The Hays Indians won the WAC with a 56-12 shellacking of visiting Liberal Redskins Friday night at Lewis Field in Hays.  The Redskins lose their fourth straight and finish 0-4 in the WAC.  The game was played with a running clock for most of the second half after the Indians led 43-0 at the half.
The Redskins went three and out on their first possession.  Malik Bah's 10 yard TD game the Indians a 6-0 lead and an 8-0 after the two at the 7:49 mark.  Hays quarter back Kyrese Groen's six yard TD at the 6:02 mark made it 15-0.  Bryce Salman's six yard run made it 22-0 with 1:47 to play in the quarter.  Hays led 22-0 after one.  Bah added second quarter touchdown runs of 26 and 20 yards and Groen had a 23 yard run.  Hays put their back ups in the game late in the second quarter and throughout the second half.  Hays ran into the locker room despite having the ball at the LHS one yard line at the end of the first half.  Hays backup quarterback Carter Graham's 13 yard TD made it 50-0 at the 10:15 mark in the third quarter.  Brooks Kappelmann swung a pass out to Izzy Rotolo who raced 68 yards for a touchdown.  Trystian Juarez added a 54 yard score after Graham's five yard TD scoot.
Tommy McClure was named Epic Touch Player of the Game.
Liberal loses to Hays for the 13th time in 14 years.  LHS is 2-5 and finishes 0-4 in the WAC.  Hays is 6-1 and 4-0 in the WAC.  Liberal plays at Ulysses Friday at 7pm with Redskin Pre-game at 6pm on 1270 and 92.3.