Hayes Bouncing Back In 2014
KSCB News - May 13, 2014 12:05 pm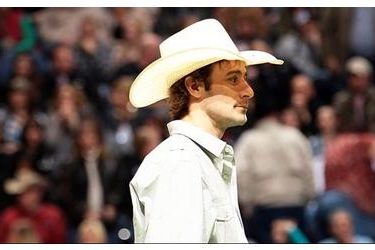 Those who, at least, casually follow professional bull riding have seen a remarkable difference in Kasey Hayes this year.
And those who know him best were impressed with the 28-year-old from Liberal, Kansas, when he rode Mississippi Hippy and Shepherd Hills Tested in back-to-back weeks.
Right after Hayes picked Mississippi Hippy in the bull draft for the Built Ford Tough Championship Round in Des Moines, Iowa, Stormy Wing walked up to him and said, "I think you're going to spur him."
Hayes replied, "Well, that makes two of us then."
He rode him for 88.5 points.
Hayes split fourth, fifth and sixth in the event for his second Top-10 finish in a row.
Two-time World Champion Justin McBride was on the other side of the world that Sunday afternoon. He was just beginning a long journey home to the United States after a week-long fishing and hunting trip in New Zealand, but he watched on Thursday and immediately called Hayes.
They talked for only 10 minutes as Hayes was on his way to the Colorado Springs, Colorado BFTS event with his family.
But it was a meaningful call for both.
McBride said he called just to let Hayes know he was proud of him.
"I thought it was an outstanding job," McBride said. "To me that was a big deal and I'll be damned if that weekend I'm watching Colorado Springs and he rides Shepherd Hills Tested."
Hayes rode Tested for 91.5 points to come back from two long-round buckoffs and finish sixth in the event.
It was the second time this season Hayes has put together three consecutive Top-10 finishes. Until now, Hayes had never recorded three consecutive Top-10 finishes in his career, much less twice in a single season.
"It's great having Kasey back riding like he's supposed to," said Sean Willingham. "He's an outstanding bull rider and he always has been."
McBride felt like the accomplishment might have gone unnoticed.
"It hasn't gotten the credit that it's deserved," said McBride, who brought it up in two different television production meetings leading up to the Last Cowboy Standing this past weekend in Las Vegas.
As a result, television cameras captured Hayes' every move on Friday night after McBride selected the ninth-year pro as his dark horse favorite to win the progressive-elimination event.
"Well, it can't make you feel bad," Hayes said about the attention. "Realistically, I rode two of the rankest bulls, so that's why it is. When you step up to the plate and do stuff like that people want you on camera and that's what you want to do. That's why we ride bulls, to be the best bull rider in the world. That's what I want to do too. I want to ride the rankest bulls."
Hayes has been the surprise story of the first half of the Built Ford Tough Series.
However, that turnaround starts and extends well outside of the arena.
"I just changed my life—how I was living," said Hayes. "I just wasn't living very good. I was making changes in my life and it was like God was leading me to do this and I was just kind of picking up on subtle hints of getting in trouble or whatever it was that kind of led me to a better decision.
"Now that I'm not drinking every – not drinking period – I'm able to make better decisions.
Hayes has been sober since last October.
"My family life is great," continued Hayes. "I have my 4-year-old son. He goes with me and I'm having a ball with him. I'm having fun riding bulls. I'm having fun with everything I do. I have an oil field business at home that's going good. That can frustrate you sometimes because it's an oil field and it's always a different problem, and I (have) one employee working for me and his name's Taylor Rankin and if it wasn't for him it wouldn't be possible for me to be riding bulls and running a business at home too. I've just got things going right."
What brought about such a sudden change?
"I just quit being selfish because I had my son," Hayes replied. "What used to be fun – going out and partying – wasn't going to benefit my family and I needed to quit being a selfish person and going out and partying, wasting my money on booze and alcohol and I needed to realize what was important in life. Sometimes that takes going to rock bottom before you realize what's important to you."
McBride added, "We talked about it with J.B. Mauney and I know I saw it with my own career, when things are going well in your personal life it tends to bleed over into your professional life. I really do believe wholeheartedly that's the case with Kasey Hayes right now. He's sober, he's sober and he's sober. That little boy really means a lot to him, so, I think, him straightening up his act wasn't so much to do for bull riding. I think it's more to do with that kid, but it just so happens that his bull riding is benefitting from it."
Willingham agreed.
"That's the main thing," said Willingham, who rooms with Hayes on the road and became a father this past December. "I couldn't be more proud of the guy going from a party animal like he was to just quit drinking stone sober. That's amazing. I'm very proud of him. He's showing up to these events and he's taking care of business."
Hayes has not only influenced Willingham, who has slowed down away from the arena as well, but also made an impact on Wing.
"He does what it takes," said Wing, who is the father of a 19-month old daughter, Suede Marie. "He has a little boy. He has a wife and he could have continued on with that, but he realized what he needed to do. It's something I need to do too. I have a little girl and, yeah, it's an inspiration."
Wing is co-hosting Touring Pro Division event with Hayes on July 26 in Guymon, Oklahoma.
"I love him and he's going to babysit me a little bit," Wing added.
To hear Hayes tell the story, his dad had been after him ever since he started drinking.
In fact, the elder Hayes told him it would lead to nothing but heartache and misery.
Only now will the younger Hayes add "waste of time and money" to the wreckage that comes with drinking.
"I was just stubborn," he said. "People don't want to be told what to do. Somebody tells me to do something I'm going to do the exact opposite. It took me deciding this is the end of it. I need to be a different person because this is not working.
"Do you know how hard bull riding is when you're worried about money or working or fighting with your wife because you didn't call her last night because you were too drunk to operate your phone? Or you just failed to call?"
Hayes earned the event victory in Tulsa, Oklahoma, in 2006 during his BFTS debut.
McBride remembers it well.
He knew Hayes as a fun-loving kid, who – like so many others – couldn't sustain that early success and eventually got beaten down by physical and mental wear-and-tear of a grinding 10-month long season competing on the rankest bulls in the world.
Hayes won another event in 2007 and finished 12th in the world standings – his best season to date. Although he'd win one event in each of the next two BFTS seasons, he continuously slipped further and further back in the world standings.
He went from 12th to 19th and then 28th to 41st before finishing 43rd in 2011. He's been 40th and 41st the past two years.
Not only had the once promising contender become a nonfactor in the race for a world title, but he missed the Built Ford Tough World Finals last year for a third time after having qualified for the marquee event five consecutive years beginning in 2006.
Last October, he was at home watching the Finals on television when he saw another of his close friends, J.B. Mauney, complete the greatest second-half comeback in PBR history. Mauney outrode and beat Silvano Alves, who had won previous two titles and did not choke in Vegas, to win his first world title.
Hayes and Mauney both debuted in 2006.
In those early years they traveled together with Brian Canter.
Watching Mauney on television was yet another wakeup call for Hayes. He wanted to be in situations like Mauney, not like the one he was in after having let his career slip away.
That Sunday afternoon, Hayes made it a point to challenge himself to make the most of whatever remained of his career.
"You're like, (darn), I could do that," said Hayes.
This year has been different.
"Kasey's changed a lot," Mauney said. "I guess getting older, we've all calmed down and it's starting to show up in our riding. … He's way more focused now. Kasey's always had the talent; it's just putting it all together. He has the mental attitude of a World Champion because he doesn't get down on himself. If he gets thrown off he's mad about it, but then he gets over it. He kind of has that don't care attitude about him and that's what you need to have in bull riding. Like the way I used to be, I would beat myself up so bad. He gets mad then he comes back and rides Tested in the short round."
McBride said it's been quite a turnaround statistically for Hayes.
However, the two-time World Champion tempered his observation.
"It's a pleasant surprise for me because I've seen his entire career," said McBride.
He described the 2014 version of Hayes as both good and quiet.
But when compared to recent years, McBride said, "Yeah, it's great."
McBride also said, "I am absolutely proud of him. There is absolutely not a guy on tour this season that I'm more proud of. I've seen the transformation of Kasey Hayes from an 18-year-old wild ass kid to the young man that he's gradually becoming."
Hayes is currently ranked 15th in the world going into the 13-week summer break from the BFTS. This summer, he plans to compete at just about every weekend in an effort to stay sharp and take advantage of his consistency.
Last year, largely due to their summer success, Chase Outlaw and Jory Markiss both got close to the Top 10 in the final standings. Hayes is hoping for the same outcome.
"It's a night and day difference," Hayes said. "Really, I think, it's just the good Lord looking out for me. He gave me a second chance with that bull (Closing Time) winning all that money. You can't even afford to eat if you're going on the (Touring Pro Division)—for a family? You can make enough to support your family."
Had he not changed, Hayes said he's not sure how much longer he would have been riding bulls.
Nowadays life is about providing for his family – he also owns his small two-person oil business and invested in a 48-unit apartment building in Tulsa and another 148-unit complex in Oklahoma City.
More importantly, his career is finally about winning.
"I want to be an elite athlete and not just mediocre," Hayes said. "I'm tired of being a mediocre bull rider."
He concluded, "I'm doing it because I want to win. I just want to win. That's what this is about."