Hay Fire Near Guymon City Limits
KSCB News - September 20, 2019 3:03 pm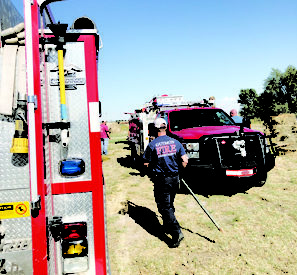 Wednesday afternoon at 3:35pm, Guymon Firefighters responded to a 911 call where a report of stored hay was on fire. The location was just east of 24th and Hurliman Rd. Upon Guymon Fire Department arrival, they found numerous large round hay bales completely engulfed in flames and beginning to spread to another stack of round hay bales nearby.
"Guymon Firefighters took quick action to limit the spread of this fire not only to the other bales of hay but to the property where other structures were nearby also", said Interim Fire Chief Grant Wadley. Firefighters quickly controlled a parameter around the fire then later were able to concentrate on the burning bales themselves. 4 fire units and 1 Paramedic unit from the Guymon Fire Department were dispatched and 2 tankers from County District #2 were also at the scene. Firefighters remained on scene for 2 hours completely extinguishing the fire.
Property owner, Alisa Chavez of Guymon, had the large hay bales delivered to her property 2-3 weeks ago and was storing them to be used for feed during the winter months for her horses. A total of 10 large bales of hay were a complete loss and not insured. Estimates loss is $750. Fire was started by a riding lawn mowers exhaust manifold coming in contact with the hay bales. No injuries were reported and no other damage to property or structures occurred.