Hay Fire In Moscow Under Control, For Now
KSCB News - May 31, 2013 8:35 am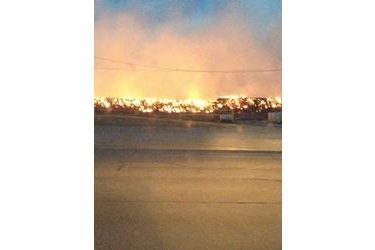 The hay bale fire in Moscow is under control, but the situation is continuing to be monitored. Depending on wind conditions, it could take as long as seven days to completely extinguish, according to Stevens County Fire Chief Darroll Munson.
Munson said as long as winds don't get too high again, the fire should not spread to surrounding fields or structures.
Since late Tuesday night, firefighters have been battling the blaze of burning hay bales at Bartlett Grain Co., located on the northern edge of Moscow.
Munson said winds of 25 to 35 mph Wednesday made it difficult to get a handle on the blaze.
"The wind was definitely the biggest factor yesterday," Munson said Thursday.
Fortunately, winds subsided Thursday morning, but prior to that, Munson said residents were advised to evacuate their homes.
"At about 3 a.m., the wind switched out of the north, so just for safety, we suggested it might not be a bad idea, because of smoke, for people to evacuate," Munson said.
The evacuation was not mandatory and was lifted at 9 a.m.
Winds began to pick up again Thursday afternoon, so Munson said firefighters were monitoring embers and smoke.
"There's a northwest wind blowing over the east side of town, but it's not posing a real threat at this time," Munson said.
He said hay fires get to a certain point that they contain themselves and there is little firefighters can do to put them out. He said moving the hay is dangerous since it can cause other fires.
According to Munson, some of the hay bales belong to Abengoa Bionergy while others belong to Cattle Empire. As of Thursday, he said, 51,000 bales had been lost.
"There were 17 stacks, and there were 3,000 bales per stack. These were corn stalks, milo stalks — dry product. Cattle Empire lost several alfalfa bales," Munson said.
Crews were filling semitrailers of hay from the unburned supply on Wednesday.
"We had numerous truck drivers stop and let us use their front-end loaders to get some of the product out," he said.
He added that firefighters from Morton, Grant, Finney, Haskell and Seward counties responded to the scene to provide assistance.
He said the cause of the fire is still under investigation.