Haskell is Coach of the Year
Brock Kappelmann - June 5, 2018 10:20 pm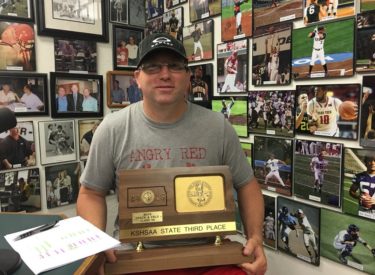 KANSAS
CROSS-COUNTRY and TRACK & FIELD
COACHES ASSOCIATION
Working to promote and improve the sports of cross-country and track & field in the state of Kansas.
​
NEWS RELEASE
For Immediate Release​CONTACT:  ​Local, AD
​
Trace Haskell, Head Boys Track and Field Coach at Liberal High School, has been designated the 5A Boys' Coach of the Year for the 2018 Track and Field Season by the Kansas Cross Country / Track and Field Coaches Association.  Coach Haskell was selected for this award due to his guidance of the 2018 Liberal High School Boys Track and Field Program and their season's successes.
Every year, the KCCTFCA honors a boys and girls' 'Coach of the Year' in each classification to recognize the outstanding work that track and field coaches are doing around the State of Kansas.  Coach Haskell will be presented his award at the 2019 KCCTFCA Clinic in early January, at the Courtyard by Marriott Convention Center in Junction City, Kansas.