Happy Trails for BJ's in Haysville
KSCB News - June 9, 2012 9:11 am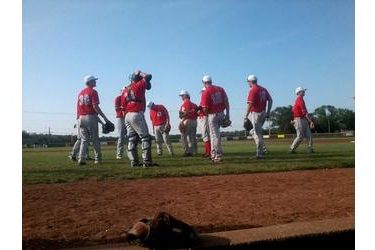 Friday felt like a fresh new beginning for the Liberal Bee Jays. With six new players on the team and the start of a five game road swing, the BJ's won their first game of that stretch 5-1 at Vulcan Field in Haysville.
After the BJ's loaded the bases in the fourth and did not score, the Heat plated a run in the bottom of the inning. But OCU's Cody Crabaugh pitched out of a first and third no out jam to keep the score at 1-0. The BJ's plated three in the sixth when OCU's Johnathan Sigado doubled home Wichita State's Dayne Parker and Wichita State's Tyler Baker. Oklahoma State's Ryan Schilhab grounded out to score another run.
Louisiana Tech's Stephen Gandy blasted a solo homer over the left field fence to lead off the sixth and make it 4-1. The boys in blue added a run in the eighth.
Crabaugh, making his first start, was solid for five and 1/3 allowing one run and four hits. Tennesse Martin's Trevor Lundgrin and Coffeyville's John Branum both pitched 1 2/3 scoreless before Texas Arlington's Zach Thompson recorded the last out.
Liberal's defense was much better turning three double plays. They committed three errors but two came in a scoreless ninth.
Liberal is 4-2 and 2-2 in the Jayhawk while Haysville is 2-5 and 0-3 in the Jayhawk.
The same two teams meet Saturday night at 7 p.m. on Talkradio 1270 and kscbnews.net.