Handy's Maize Spoils Liberal's Upset Bid
KSCB News - March 4, 2016 7:18 am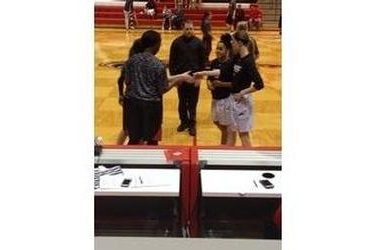 The Liberal Lady Redskins made Maize work. A program which is injury riddled to be sure, has been to two straight 6A state title games. Kismet native Jarrod Handy had this team at a three seed despite four major knee injuries this season. The Lady Skins led by 12 twice in the third quarter before the Lady "Eagles rallied to beat Liberal 44-37 in overtime. Liberal was looking for their first postseason win in six years.
Liberal jumped out to a 7-2 lead early and missed several lay ups or they would have had a bigger lead early. LHS led 7-5 after one quarter. Maize took a 16-11 lead but an Ali Lucero three before half helped Liberal to trim the lead to 16-14 for Maize which was the halftime score. LHS bolted out of the lockeroom on a 16-2 run to lead 30-18 after they had led 28-16. The Lady Redskins enjoyed a 30-20 lead after three quarters. Handy pressed Liberal and LHS fell apart. They didn't get it past halfcourt three straight possessions. The Lady Eagles soared to their own 16-2 run to lead 34-32. Liberal tied the game at 35-35 and missed a three pointer to win it. Maize controlled overtime after Ali Lucero and Jada Mickens fouled out. LHS was 2-11 from three point range and Maize was 4-12.
Diamond Bailey scored 16 in her final game. Carolina Limon had eight. Liberal finished 11-10 which is their first winning season since 2010 when they were 12-10. Maize is 15-6.