Hall of Famer Walton Named Lady Saint Assistant
Brock Kappelmann - August 8, 2017 3:47 pm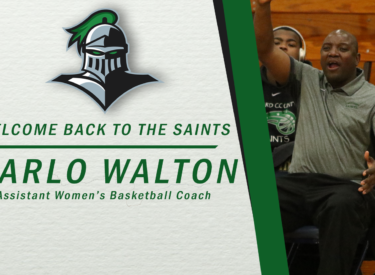 LIBERAL, Kan. – Seward County Director of Athletics Roy Allen announced Tuesday the addition of Carlo Walton to the Lady Saints basketball coaching staff as Assistant Coach.
Walton, a 2016 Seward County Hall of Fame inductee, spent the past season as a volunteer coach for the Lady Saints, during which they went 32-3 with a fourth place finish at the NJCAA National Tournament.
"To have someone who is a graduate, an All-American, a Hall of Famer, a volunteer, and now a full time coach all at Seward County shows his dedication to our institution and the Liberal community," Allen said. "There might not be another single person out there that exhibits more passion for Seward County than what Carlo does. With that said, we are extremely happy to keep him on board with us in a full time capacity. He worked tirelessly for us as a volunteer over the past year and I expect him to continue to do the same in his new role."
Over his two-year career with the Saints in the mid-90's, Walton finished third all-time in scoring (1,422 points), and is still the all-time leader in three-pointers made (159), assists (436) and steals (224).
"I have traveled many roads to get to this point," Walton said. "I am truly blessed to be able to come back to Seward County and coach my alma mater."
Ian Applegate