Hall of Fame Coach Galen McSpadden Retires after 37 Seasons
Joe Denoyer - May 14, 2018 11:21 am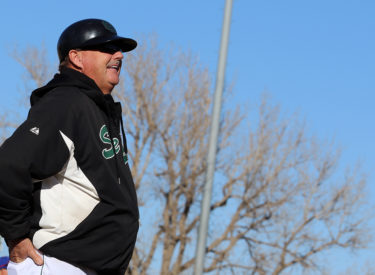 LIBERAL, Kan. – After nearly four decades of coaching, Hall of Fame Seward County Head Baseball Coach Galen McSpadden is calling it a career, and what a career it was.
"After 37 years at one place, it's time that the baseball program has a new leader," McSpadden said. "It's also time for me to take care of my family and the opportunity to do that presented itself. As I've done most of my life, opportunities are like waves and when a wave presented itself, I jumped on it and will ride it until the final shore."
Over his 37-year career, McSpadden has accumulated 1,243 career wins, ranking him 7th on the all-time NJCAA wins list and 3rd among active coaches.  His wins are also the most in Jayhawk Conference history, while only four coaches in the history of the NJCAA have more wins in fewer seasons than McSpadden did in his 37 years as head coach.
"Galen has meant so much not only to Seward baseball, but SCCC and the Liberal community as well," Director of Athletics Roy Allen said. "He has given us every ounce of effort that he is capable of for the past 37 years and for that we are truly thankful. While his 37 years of service are over, his legacy will truly live on forever."
In addition to being head coach, McSpadden spent 33 years as the Director of Athletics at Seward County, before ending his tenure in 2016-17.  During his time as Director of Athletics, he helped guide the Saints and Lady Saints to new heights, capturing 48 Jayhawk West Conference titles, 29 NJCAA Region 6 Tournament Championships and the 2001-2002 women's basketball program won the NJCAA Division I National Championship. Under McSpadden, the Seward County Athletic Department made 42 appearances at the NJCAA National Championships and had a total of 47 NJCAA All-Americans.
"I owe it to those that took a chance on me," McSpadden said. "Starting with James Hooper, who hired me and talked me into being an athletic director, all eight of the presidents along the way and the fans, athletes and staff who supported me."
McSpadden was second to none when it came to developing players.  He coached 181 Jayhawk West All-Conference selections (101 First Team), 55 NJCAA All-Region VI selections, 12 Jayhawk West Conference Freshmen of the Year, seven Jayhawk West Conference Most Valuable Players, three NJCAA National Batting Champions (1992 Tim Forkner; 2000 Jesus Morillo and 2002 Matt Wells), three NJCAA Central District Big Stick Award Winners (1992 Tim Forkner; 1997 Chaz Eiguren and 2002 Cory Patton), three Region 6 Most Valuable Players (1993 Tim Forkner; 1997 Chaz Eiguren and 2002 Cory Patton), four NJCAA Region 6 Gold Glove Award Winners (2013: Bryson Allen, 2007: Christian Kowalchuk, Tanner Rindels and Toby Davis), and one NJCAA Central District Defensive Player of the Year (2002 Dan Dody).
"In pro sports people talk about coaching trees as legacies," Allen said. "Can you imagine the number of branches and lives that Coach has touched over the years?"
McSpadden's baseball teams didn't just perform well on the field, they became nationally known for their academic excellence and their phenomenal transfer rate to the NCAA Division I institutions. Seward County was the National Academic Champion Runner-Up in 2002, finished 3rd in 2001 and was the Region 6 Academic Champions in both 2001 and 2002. In the past 15 years alone, Seward County has had 45 student-athletes earn NJCAA Academic All-American honors.
"I owe a great deal of respect and gratitude to the very first player I signed in 1981 to the last player that was in this season's team meeting," McSpadden said.
Prior to coaching the Saints, McSpadden was drafted and signed by the San Diego Padres in the 6th round of the 1974 MLB Draft, spending four years with the organization.  He was introduced to the Liberal community in 1972, pitching for the Liberal Bee Jays. He came back as a pitching coach for the Bee Jays in 1978 before being named Seward County's head coach in 1981.
"I was very fortune to have had an opportunity to be a part of Seward County," McSpadden Said. "This is a special place. It has its own Seward County way."