Halftime Lead Powers Saints to Victory
Brock Kappelmann - November 8, 2017 6:25 am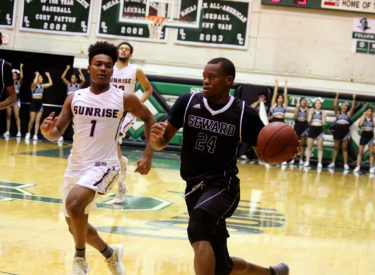 LIBERAL, Kan. – The Seward County Saints basketball team took home their third straight victory Tuesday night, defeating Sunrise Christian, 75-64, thanks to a 15-point halftime lead. The Saints were led in scoring by freshman Devin Bethely, who had 20 points in the win.
The Saints (3-0) had a tough time getting started, scoring only three points through the first four minutes. A 6-0 run in the next two minutes gave the Saints their first lead of the game. Mohamed Selmi was responsible for four of the points during the run.
With nine minutes to go in the half, the teams were tied at 17. The Saints finished the final nine minutes on a 17-2 run. Bethely started the run with two free throws, which would be the final lead change of the game.
Seward shot 45% from the field in the first half, connecting on 14 of 31 shots. However, they only went 1 for 6 from behind the arc. The halftime lead was a result of the Saints stifling defense, holding the Buffaloes to just 30% from the floor and 28% from deep.
The second half started with the Buffaloes scoring 11 of the first 13 points, closing their deficit to just eight points with the score 38-30. The Saints responded with a 7-0 over the next two minutes to push their lead back to 15.
The lead quickly dwindled again however, as Sunrise went on a 18-6 run over the following four minutes to cut the once large lead to 3. With just over 9 minutes to play, Bethely went on his own 7-0 run help increase the Saints lead to eight. The lead proved too much for the Buffaloes to overcome, as Seward glided to the 11-point victory, 75-64.
The Buffaloes were able to figure out Seward's defense in the second half, shooting 58% from the field and 54% from behind the arc. While the defense was figured out, the Saints kept rolling on offense, shooting 48% from the floor in the second half and finishing the night shooting 47%.
The bench played large role in the win for the Saints, accounting for 22 points. Isiah Small led the charge off the bench with 17 points, 13 of which came in the second half. Ke'Sean Davis also ended in double figures, with 13 points.
The Saints seek to go undefeated in conference play when they host Lamar JV at 8 p.m. inside the Greenhouse on Wednesday (Nov. 8). The game will take place following the Lady Saints game against Frank Phillips at 6 p.m. Free tickets are available thanks to the game sponsor Pizza Hut at all Liberal Pizza Hut locations.
[cid:image003.[email protected]84044D90]
Ian Applegate