Guymon Police Arrest Rape Suspect
KSCB News - May 19, 2009 12:00 am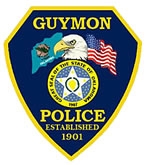 The Guymon Police Department responded to the Memorial Hospital of Texas County about 2:30 this morning (Tuesday May 19,2009) after being contacted that a person was in the emergency room reporting that they had been assaulted.
Officers with Guymon PD and OSBI spoke with the victim and determined that the attack began at the Executive Inn in Guymon late Monday night. The victim reported being bound, beaten, and sexually attacked by the suspect who would not allow them to leave the hotel. The victim was able to get free and escape after the suspect passed out in the hotel room after the attacks. The injured victim then obtained help from another guest staying at the hotel who took them to the hospital after the assault.
After the investigation Officers with the Guymon Police Department and Texas County Sheriffź??s Department arrested 42 year old Clifford Gene Davis in the room where the attack reportedly occurred.
A short time after the suspect was arrested he was able to free himself from handcuffs and escape but was captured after a brief foot chase with officers. Davis, a convicted felon, is currently under the supervision of the Oklahoma Department of Corrections for a 2006 conviction on another assault in which he was given a 5 year suspended sentence.
OSBI Crime Scene Technicians were called to the hotel process the crime scene after a search warrant was obtained from court authorities.
The suspect is being held in the Texas County Jail on charges of Attempted Rape, Kidnapping, Aggravated Assault, and Escape.