Guymon is "All Fired Up" For Ugly Sweaters
Joe Denoyer - November 29, 2016 8:20 am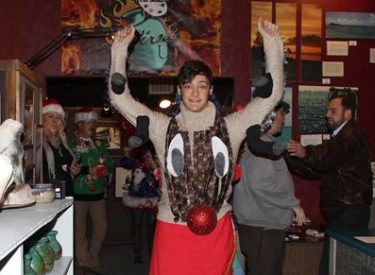 They come in all shapes, colors and sizes, and even messages. During the last Ugly Sweater contest, the winner transformed himself into a 3D reindeer with his Ugly Sweater. Another's Ugly Sweater started playing Christmas music as he was approached. That would-be Larry Buhler in 2014. 
            "Ugly sweaters can be handmade, purchased, passed down- it's up to you," said Matt Crook of All Fired Up Gallery in Guymon. All Fired Up is spearheading the event. "Our secret judges are looking for creativity with a message," said Crook. A total of $500 is up for grabs during this Friday evening's event, while another $500 cash is up for grabs via a merchant punch card promotion. The public 18 and over will have one full week to get their cards punched by participating merchants for the drawing. Cards can be picked up at All Fired Up Gallery at 421 N. Main. A complete mobile/smart phone-ready list of activities and participating merchants will be ready Friday evening at www.allfiredup.ok.com. 
              The event is free, open to the public, and is sponsored in part by the City of Guymon, City Bank and Trust, Panhandle Printing, TEL Oil and Seaboard Foods. The event features free carriages rides with any Guymon sales receipt.  Christmas Open House is Friday, December 2nd from 5 to 8:30 in the evening.