Guymon Home Destroyed By Fire
Joe Denoyer - July 25, 2023 3:49 pm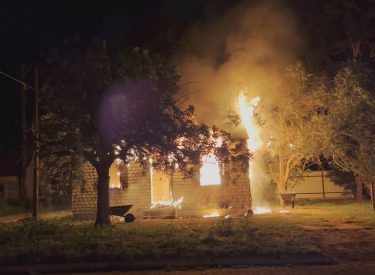 At 3:19am Tuesday morning, Guymon Fire Department responded to a 911 call of a structure fire at 114 NE. 9th street here in Guymon. As both Fire and Police units were responding, smoke and flames were observed blocks away from this location.
"Once on scene, Firefighters found a home fully engulfed in flames with trees on the outside of the home beginning to burn also", said Guymon Fire Chief Grant Wadley. Firefighters quickly began to extinguish the fire while at the same time Firefighter rescue members gained access to a window to begin looking for victims inside. It was determined the home was not occupied at the time of the fire. It took Firefighters 25 minutes to bring the fire under control. No injuries were reported.
Estimated loss of the home is $35,000. Cause of the fire is unknown at this time and under investigation by the Guymon Fire Marshal's Office. Guymon Fire Department was assisted by Guymon Police, Tri-County Electric, and Guymon Emergency Management.