Guymon High School Art Teacher named the Best Art Teacher in Oklahoma by Oklahoma Living Magazine
Joe Denoyer - January 9, 2020 8:32 am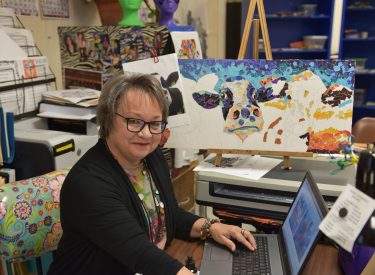 By JuliAnn Graham
Art is woven into every aspect of Kristy Patterson's life. Patterson, OKL's "Best Art Teacher" winner, is a native of Guymon and a member of TCEC (Tri-County Electric Cooperative). She has taught beginning and advanced art classes at Guymon High School for 20 years. She is a professional studio artist represented by galleries in Santa Fe, New Mexico, and Durango, Colorado. Her husband Michael is an artist in his own way: he has a theater degree and teaches speech and debate at Guymon High School.
"Her passion for art is just amazing," one of her advanced art students said.
Patterson says she has been an artist since she was young. After high school, she went to Southwestern Oklahoma State University in Weatherford for a degree in graphic design.
She spent 25 years in social work and incorporated graphic design into her role. She transitioned into teaching by serving as a substitute teacher until a full-time position opened.
"Teaching is the family business," Patterson said. "I come from three generations of teachers and my three daughters are teachers.
"The students are the best part of teaching. They become lifelong friends. It is so exciting to love something and be able to share it."
Outside of teaching, Patterson has taken her passion for art into the Guymon community. She and her husband were founding members of the Guymon Community Theatre in 1979. Today, they continue to be involved in the theater, helping produce the sets and directing productions.
Art has colored Patterson's life richly—from being her chosen profession, to teaching it, to giving it back to the community. Art is part of who she is.
https://www.okl.coop/sections/oklahoma-stories/best-of-okl-2020/