Guymon Firefighters Respond To House Fire
KSCB News - July 21, 2011 10:04 am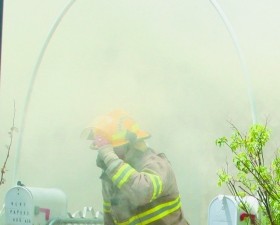 Tuesday afternoon at12:53pm , Guymon Firefighters beat the heat and smoke of a house fire.
Neighbors noticed smoke coming from the house at 806 N. Academy and called 911 immediately. On Firefighters first arrival, they found the house with heavy smoke coming from the windows. "Once inside the house we were met with very heavy smoke and heat conditions", said Firefighter and Incident Commander OJ Herrera . Firefighters were able to gain fast access and extinguish the fire which was located in a bedroom of the home.
Home owner, Bill Bridges, was at the scene and stated that no one lived in the house at the time and was currently being used to store family belongings and other items. The fire was brought under control very quickly but not before 5 family cats were found expired from the heavy smoke conditions in the house before Firefighters arrived.
Fire was contained to the room of origin with the cause of the fire undetermined at this time. Estimated loss of contents of the fire is $10,000 – $15, 000. Firefighters remained on the scene salvaging items for the family and extinguishing hot spots for over 2 hours before leaving the scene. Firefighters didn't just battle the heat of the fire, but the 102 degree temperatures outside and 24% humidity also played its role on Firefighters.
Guymon Firefighters and Paramedics were on scene and assisted by the Guymon Police Department, Emergency Management, Tri-County Electric, Red Cross, and City Gas and Water services personnel.