Guymon Firefighters Deal With More Than Small Grass Fires
KSCB News - August 4, 2010 12:00 am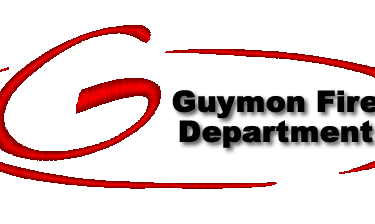 In the past 2-days, Guymon Firefighters have been busy with grass fires both within the city limits and in the county. Both grass fires have been unique in that they had dangers not very commonly found at grass fires.
Monday afternoon at 1:45pm, Guymon Firefighters were called 7 miles north of Guymon to a reported grass fire. "On Firefighters arrival, they found a section of land burning which was accidentally started by a fault in an irrigation well engine", stated Assistant Fire Chief Grant Wadley. During the spread of this fire, the flames engulfed an abandon irrigation engine that had a natural gas leak under ground leading to the engine. Firefighters were not able to control the gas fire until the service line to the motor was shut off and the remaining gas in the line was burned off. 3 fire units from Guymon gained control of the fire with aid from the land owner. 80 acres total burned before firefighters gained control of the fire. "Moderate winds and temperatures of 103 also played a large part in the spread of the fire", Wadley said.
Last night at 7:42pm, Guymon firefighters were called to the area of Joyce Drive and Pracht street for a reported small grass fire. As fire and police units were arriving, they noticed a large freight truck with power and cable lines over the top of the trailer and large cable poles trailing behind the truck.. The fire was located in the alley behind the Church of Christ which ended up being a large power pole and the grass surrounding the pole. A delay in quickly extinguishing the fire occurred until power to the pole could be shut off by Tri-County Electric.
Investigation found that this freight truck had struck some low hanging cable lines going across Pracht street. "This was one of the worse locations for a vehicle to get tangled in cables since there were power lines, cable lines, and phone lines all at this very location", Wadley stated. Once the fire was out, emergency workers could assess the situation in more detail. Power was out in this portion of town until late into the evening while Tri-County worked to get this major pole replaced. 2-3 blocks of TV cable were lying on the ground in the alley ways along with over 15 poles. This incident affected a large amount of customers for Tri-County Electric, Alliance Cable, and PTCI. Work was still continuing Wednesday morning.
Guymon Fire Department responded with 3 units and were assisted by the Guymon Police Department, Oklahoma Highway Patrol, Tri-County Electric, and PTCI. Damage estimates were not available at this time but expected to be very high between all the services affected by this incident.