Guymon FD Respond to Barn Fire in the County
KSCB News - April 13, 2015 9:31 pm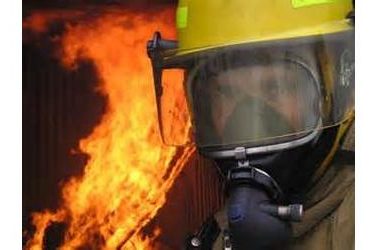 Monday at 12:55pm, Guymon Firefighters along with Goodwell Firefighters responded to a reported structure fire 6 miles west of Guymon on the south side of U.S. Hwy 64. "Upon Firefighters arrival, they found a large metal and wood constructed barn with heavy smoke conditions coming from all sides of the building", said Assistant Fire Chief Grant Wadley.
Travelers passing by the residence on the highway noticed heavy smoking coming from the building with no one nearby, they called 911 immediately. Firefighters were able to contain and control the fire within 25 minutes of arrival. The barn was being used as storage with everything inside a total loss from the fire. Firefighters were able to protect a nearby house from any damage.
The home owner was not present at the time of the fire. Property owner, Clarence Eaton of Guymon, arrived and identify his property in the barn. Cause of the fire was found to be a short in an electrical cord going to a heat lamp just outside the barn. Estimated damage and property loss is valued at $35,000.
The Guymon Fire Department was assisted by Goodwell Volunteer Fire Department, Texas County Sheriff Office, Texas County Emergency Management, and Texas County District #2 water tankers.