Guymon City Manager, Ted Graham, Issues Statement On Mayor Huckins Death
KSCB News - May 5, 2010 12:00 am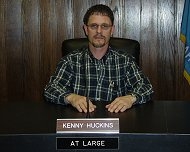 It is my sad duty to inform you of the death of our City of Guymon Mayor, Kenny Huckins. Mayor Huckins passed away on May 4th, 2010 due to a subarachnoid hemorrhage due to a ruptured aneurysm. Kenny served this city with honor, dedication and love for his city, his constituents and for his family. He was a loving husband to Carla and father to his three sons, Chad, Landon and Aaron. He has one grandson, Caden Huckins.
The City of Guymon has lost a great servant too early. Mayor Huckins had served three years as councilman, one year as Mayor. He is a life long resident of Guymon and has been a volunteer with the Guymon Fire Department for twenty two years.
Henson Novak Funeral Home has announced that services for Mayor Huckins are tentatively planned for Monday, May 10, at 2:00pm at St Peters Catholic Church with graveside services to follow at Elmhurst Cemetery.
Ted Graham
City Manager