Gustafson Wins 500th Game in Softball Sweep
KSCB News - April 2, 2015 12:57 pm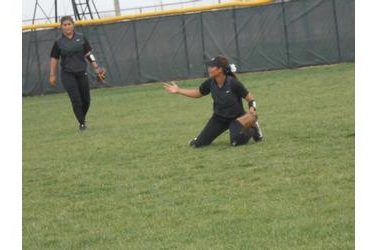 The afternoon ended with the water cooler being dumped all over her. But on a day in the upper 80's, it must have felt good to Seward head softball coach Andrea Gustafson. After first place Seward swept third place Dodge City 7-0 and 8-2, Gustafson won her 500th game.
Seward won the first game 7-0 as pitcher Alexa O'Brien allowed just one hit. Seward scored six in the sixth. Kolby Hamilton and Grace Peterson led Seward nine hit attack with two hits a piece.
In game two, Seward pitcher Jaclyn Wagner allowed just four hits. Seward scored two in the second and third innings to lead 4-2. The Lady Saints blew it open with four in the sixth. Hamilton was 4-4 while Vanessa Oakden was 3-4 and Jaidyn Mawhinney and Kennedy Brunson had two hits a piece.
Seward has won 10 in a row and is 27-13 and 10-2 in the Jayhawk West while Dodge City falls to 20-12 and 7-7 in the Jayhawk West. Seward plays at Barton Friday.