Gus Blackwell Charged with Perjury, Embezzlement
KSCB News - May 6, 2016 6:33 pm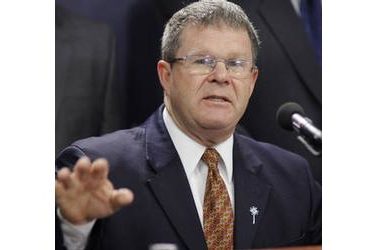 Former state representative Gus Blackwell, R-Laverne, is charged with eight counts of perjury, four counts of making fraudulent claims against the state and 32 counts of embezzlement, totaling more than $23,000.
In court documents filed Friday, Oklahoma County District Attorney David Prater accused Blackwell of falsifying campaign contribution reports, turning in false reports to the state for reimbursement and stealing money from his campaign account for personal use.
Prater opened and investigation in February 2016. Court documents state that information from the Oklahoma Ethics Commission reveals Blackwell paid for travel expenses from his campaign account and then filed for reimbursement from the state for the same expenses. Documents show numerous purchases on his campaign credit card from 2012 through 2014.
A search of Blackwell's bank accounts show payments were made to the credit card company through the campaign account named "Friends of Gus Blackwell 2012". State reimbursements were paid to Blackwell's personal account via direct deposit. Court records state Blackwell did not repay his campaign, but instead used the funds for personal gain.
Additionally, investigators say Blackwell wrote checks to himself from the campaign account for travel expenses he had not personally incurred.
Blackwell served in the state House of Representatives from 2002-2014. He served as Majority Whip and left the legislature due to term limits. Blackwell is currently listed as the Director of Government Relations for Oklahoma Corrections Professionals (OCP).